XRP Community discovers intriguing detail in Twitter's 'X' logo revamp. Elon Musk's recent Twitter "X" rebrand has sparked a wide range of responses. As part of a platform overhaul, the Twitter owner and Tesla CEO revealed a new logo featuring a "minimalist art deco" X over the weekend.
Musk solicited logo ideas from his 149.2 million Twitter followers, and it seems he has chosen the one he showcased on Sunday via a pulsating video pinned to the top of his Twitter page.
New Twitter Logo has Sparked Interest in the Crypto Community
It appears that the decision has been made, as evidenced by a post from Twitter CEO Linda Yaccarino on Monday. The CEO of Twitter shared the new design on her Twitter account, writing, "X has arrived! Let's get started."
Anyone else agree that the #XRP logo looks way better? 👀 https://t.co/efEstwvNAQ pic.twitter.com/RwowxCiuIC

— XRPcryptowolf (@XRPcryptowolf) July 24, 2023
The XRP community has taken notice of the new Twitter "X" logo, particularly because of its similarity to the XRP logo. In reaction to the tweet from Twitter CEO Linda Yaccarino, "XRPcryptowolf," an XRP community member and Twitter influencer, made intriguing connections between the "X" logos of XRP and Twitter.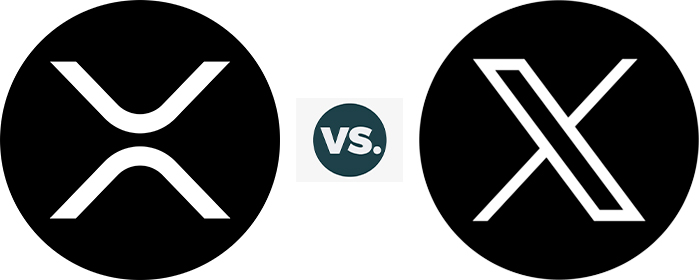 "XRPcryptowolf" shared an image of the XRP logo on a black background alongside the Twitter "X" logo, which was shared by the Twitter CEO in a thread, emphasizing their resemblance.
Elon Musk has had a longstanding fascination with the "X" logo, which is also the name of the "all-in-one app" he has pledged to launch, likely via Twitter. Before acquiring Twitter in October, he described it as "a catalyst for creating X, the all-in-one app."
In recent days, there has been much talk about the outcome of the Ripple lawsuit. As reported, Twitter owner Elon Musk recently shared his thoughts on the matter during an episode of The All-In Podcast, where the hosts discussed, among other topics, Ripple's recent win against the SEC.
E137 – on @Twitter!

Inflation cools, market rips, Ripple/MSFT beat regulators, NATO summit, cocktails of youth

(0:00) Addressing the podcast hack

(2:55) Macro picture: inflation cools, what happens to rates, market sentiment, soft landing, tech run-up

(20:34) Consumer… pic.twitter.com/PSRGknDYjq

— The All-In Podcast (@theallinpod) July 17, 2023
Musk commended the podcast in a tweet he posted on his account, adding the remark, "Great podcast."