BlackRock's alleged XRP ETF filing sparked turmoil in the cryptocurrency market before being debunked as false, causing a brief spike in the currency's value, followed by a rapid decline.
Initially, reports emerged suggesting that BlackRock had filed documents to launch an XRP ETF in Delaware.
This news was spread by various media outlets and attracted the attention of blockchain industry experts, generating sudden enthusiasm among investors. One of the most influential tweets, without a doubt, was that of @theblockupdates.
*BLACKROCK FILES TO REGISTER A NEW ISHARES XRP TRUST ENTITY IN DELAWARE – THE BLOCK PRO

— The Block Pro Headlines (@theblockupdates) November 13, 2023
The rumor gained major relevance when Bloomberg Senior ETF Analyst Eric Balchunas, highlighted the claim, seemingly validating it. Uncovering the fastest media and users to share the news and jump into the market.
However, the optimism was short-lived, within about an hour, conflicting reports emerged indicating that the ETF filing was fake, as BlackRock officially denied any such filing. Despite this denial, BlackRock had not issued an official statement at the time of writing.
This is false! Confirmed by BlackRock by me. Some whacko must have added using BlackRock executive name etc. Cmon man. pic.twitter.com/cDpnycYwjQ

— Eric Balchunas (@EricBalchunas) November 13, 2023
Impact of Initial False Report Was Evident on XRP Price
The price of XRP surged nearly 15% within two hours of the news, hitting a four-month high of $0.7487 according to official data from CoinMarketCap. The sudden rise illustrated the potential influence that a true XRP ETF could have had.
However, as news spread that the filing was fake, the market experienced a rapid decline. The abrupt fluctuations caused significant sell-offs, causing losses to investors on both sides of the market.
Substantial liquidations totaling $6.4 million occurred, with $4.1 million in long liquidations and $2.3 million in short liquidations. Notably, 70% of these liquidations, which amounted to $4.51 million, occurred within four hours of the false report on the BlackRock XRP ETF.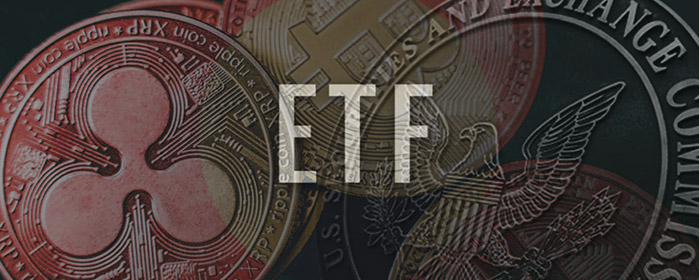 Despite efforts to debunk the rumor, a segment of the community continued to believe in the legitimacy of the presentation. Some relied on his presence on the Delaware Integrated Compliance Information System (ICIS) website to maintain their conviction.
Industry experts mostly debunked this information, citing similarities to past fraudulent filings and BlackRock's official denial.
This incident is reminiscent of a past event in the crypto community where fake ETF filings occurred.
In 2021, a person posed as Grayscale, presenting financial vehicles related to cryptocurrency projects in Delaware, which Grayscale's CEO clarified as false.
The rapid rise and fall of the BlackRock XRP ETF rumor highlights that there is still a sensitivity in the crypto market to unverified news, causing considerable volatility and financial repercussions for traders.