According to a recent report published by Galaxy Research, cryptocurrency and blockchain venture capital investments saw a dramatic fall in 2022.
According to the findings of the report, overall investment in the industry was down by almost half from the previous year, coming in at only $1.3 billion in 2022.
This is a considerable decrease from the all-time high of $3.9 billion in 2021 and Galaxy Research expects it to go even lower in 2023.
As stated in the report, the fall will be attributed in part to the persistent bear market in the cryptocurrency area, which has made it more difficult for businesses to get capital and pay off their obligations.
In many countries, the absence of clear norms for the use of cryptocurrencies and the trading of cryptocurrencies, as well as the regulatory ambiguity that comes along with it, will also contribute to the drop.
With a sharp drop in early-stage venture investment but consistent investment in later stages, the percentage of capital spent in later stages surpassed 40%.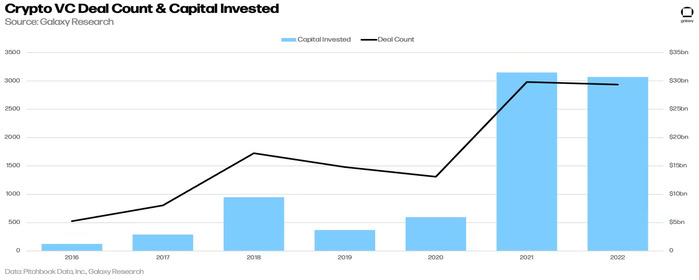 Counting agreements at different stages helps highlight the decreasing priority given to new ventures. According to Galaxy Research, Q4 2022 was the first quarter in history in which there were more late-stage agreements than early-stage ones.
This year is expected to continue the downward trend seen in median transaction sizes and values during 2022. This trend began in Q1 of 2021 and persisted through the end of the year.
Web3 Dominates Crypto Venture Investments
In Q4 of 2022, Web3 maintained its lead in the deal count. Web3 startups were the dominant category, accounting for 31% of all acquisitions closed during that period.
Indicative of the infancy of the nascent subsector and story, Web3 agreements are smaller and at an earlier level than Trading deals.
Every venture fund has had a tough time obtaining money in the present macro climate as allocators adjust and pull back from risky investments.
More than $33 billion was invested in more than 200 crypto venture capital firms in 2022, making it the largest year ever.
Since 2021, when $19.4 billion was raised by 140 different venture capital firms, this expansion is a huge rise, the report says.