The volatile cryptocurrency market has faced major ups and downs recently. The blazing mix of green and red candles on the charts of various tokens shows how the market has fared with high levels of uncertainty. The likes of Bitcoin, Ethereum, Cardano, and several other coins struggled to gain in the market, as the prices fell within the last few weeks.
Historically, September has proven to be a bleeding month for the cryptocurrency market. The similar phenomenon was followed this year, as many coins continued to shed their value all over the month.
However, as soon as the monthly closings were done, the market experienced a slight upsurge. In the first two days of October, the market has shown positive signs with many coins turning bullish. The ongoing recovery process has relieved the crypto community and the investing sector by a certain degree.
ADA spikes higher and hopes to hold momentum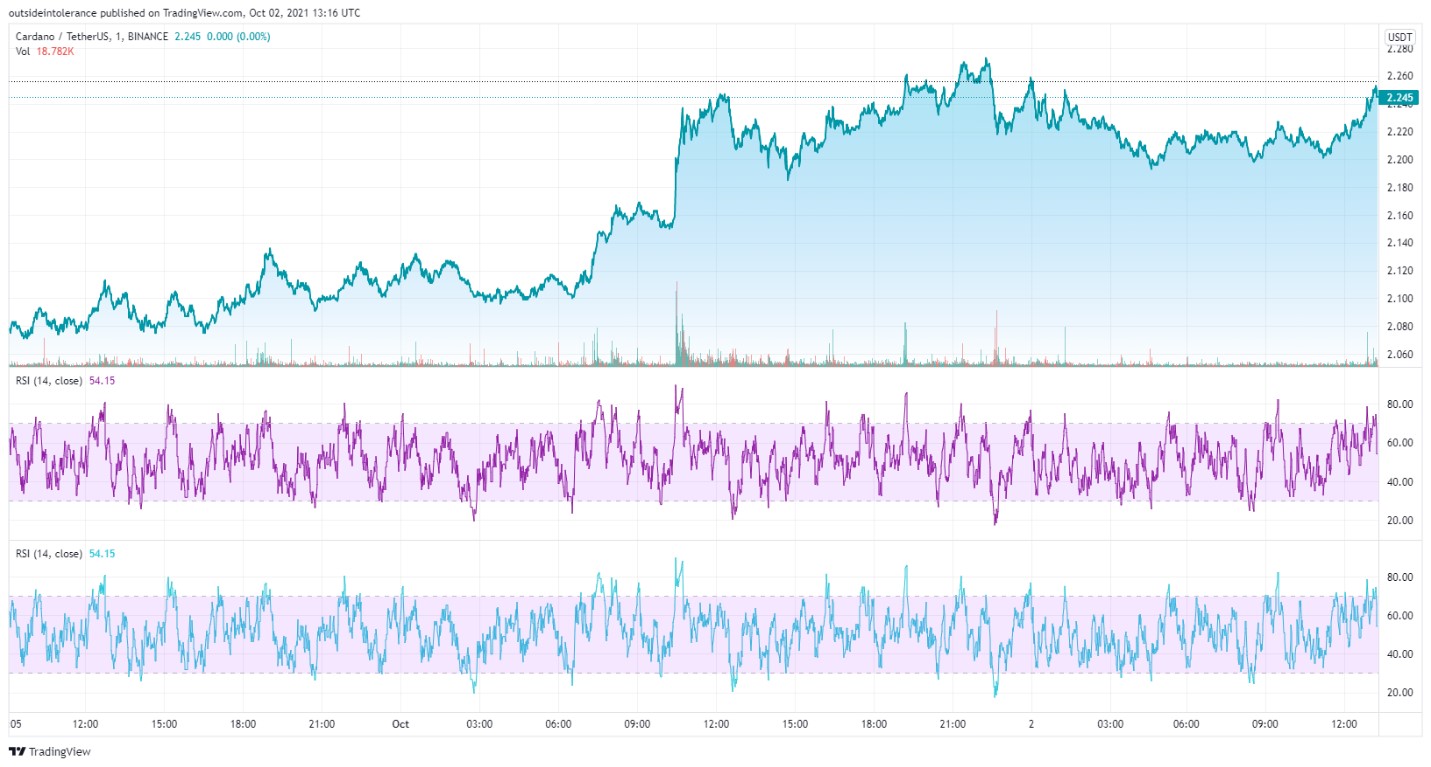 Cardano, itself, has experienced a move upwards like the rest of the market. However, it still remains in an unstable position where clouds of volatility and indecision are hovering around the digital coin. ADA's recent performance has issued mixed signals for the long as well as short side of the market. The graphs and charts of the coin are quite uncertain, as the daily closings are also not up to the desired level to prove a bullish hypothesis.
However, the rally of the coin has been quite impressive lately, as it has defended its position and has successfully refrained from turning bearish. The bears have also not given up because their has been no clear breakout despite a 6% rise in the price of the coin. At the time of writing, ADA is valued at around $2.24. Experts believe that a move below $2.07 could trigger a bearish trend for the coin. However, if the coin successfully maintains its position and continues its ascend then a strong bullish movement may follow.
The bulls have struggled to keep the price of ADA afloat. However, the first week of October can prove to be a really decisive one for the near future of ADA. The coin currently has strong support at the $2 mark. Also, a bullish upswing can push the price of the coin close to the $3 mark as well. Nonetheless, the next few days of activity will be extremely crucial for the digital token.