Bitcoin (BTC) in a relentless rally flipped above $29,000 on March 30, thereby leaving a mark of a new All-Time High (ATH) for 2023. At the time of writing, it is trading at $28,543 according to data from CoinMarketCap. 
However, the pump significantly influenced crypto fear and greed. Greed rises to 60%, thereby indicating that traders' sentiments/emotions are high towards the crypto market despite ongoing regulatory clampdowns.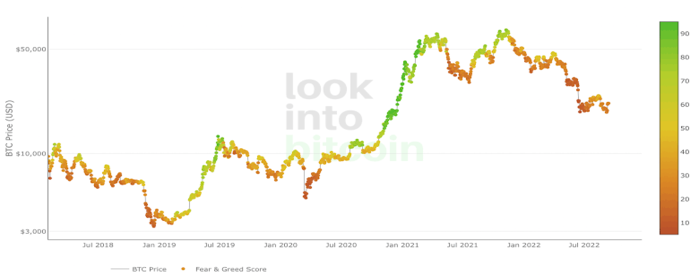 Recall that Bitcoin sharply dropped to $26,606 on March 27 in reaction to the lawsuit filed by the Commodity Futures Trading Commission (CFTC) against Binance and CZ in the U.S. District Court for the Northern District of Ilionios for allegedly violating trading rules.
Meanwhile, BTC defied all odds on March 29 with a remarkable 5% comeback which led to the liquidation of more than $138 million within 24 hours traded by over 38,000 traders.
Traders React to Bitcoin (BTC) Price
It appears that veteran traders are not extremely optimistic about the recent Bitcoin (BTC) price rebounds, stressing that the new development was due to large-volume traders buying back in. 
Some of the traders argued that the price was largely influenced by buying strategies rather than fundamentals. To this end, Muro asserted that he wasn't bullish through a tweet. 
The big guys basically brought price back to their recent short entry (red) by taking profit

I'm definitely not bullish

Going small risk short again pic.twitter.com/0Q0H8mmHzC

— Muro (@MuroCrypto) March 29, 2023
It was argued that Bitcoin has not addressed the worst of resistance in a key trading range for everyone to flip bullish. 
However, many traders are aiming for the $30k milestone before fully turning bullish. 
What is more important, the local weekly breakout of a multi-month range, or the retest of the most significant supply zone in the last 2 years while we face all kinds of headwinds?

I will get just as bullish as every carnival barker when we are above 30k. Also, not for nothing,… pic.twitter.com/kvcJPlouXf

— HORSE (@CanteringClark) March 28, 2023
At this point, it is too early to say if BTC will reach the $30,000 milestone, even if it fails to break resistance, it may eventually pull back and test lower support levels around $25,500.