Bitcoin has been trading above $7,000 for the past 6 days and bulls were able to break the last daily high at $7,738 by around $60 but saw no continuation. BTC is currently trading at $7,718 but could be running into exhaustion.
Buyers' exhaustion happens when most traders are already in long positions and there is no one left to buy and push the price up anymore.

According to BtcTools, Longs on BitMEX exceed shorts by a lot and the difference is even steeper for ETH. This doesn't necessarily mean that Bitcoin is at risk of a long squeeze but it does seem to be slowing down due to the lack of more buyers.
The $7,700-8,000 Resistance Area is Crucial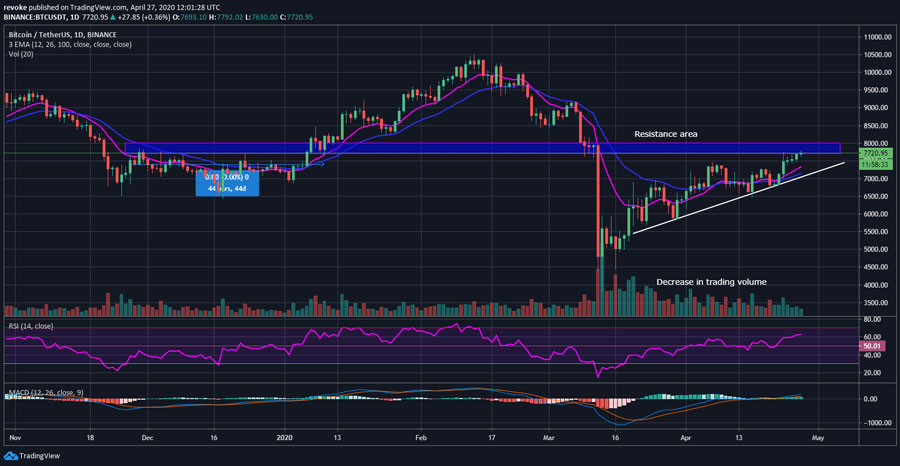 Bitcoin is facing a lot of resistance up to $8,000. This area of resistance was formed back in December 2019 when Bitcoin traded below it for around 1 month and a half before finally seeing a breakout which propelled the digital asset up to $10,500 around 2 months later.
Bitcoin also saw a significant rejection back in October 2018 after surging from $6,300 to $7,700. This rejection led Bitcoin into a massive bear run two months later.
Not only that but the daily RSI is also close to overbought levels which is yet another hurdle for the bulls. In an ideal scenario, Bitcoin would consolidate down to $7,000 before going up again, cooling off RSI levels, and allowing buyers to come in.
Bitcoin Price Short-Term Forecast
Looking at the 4-hour chart, it's clear that Bitcoin is also slowing down in the short-term as bulls had 2 different breakouts without any followthrough. The 4-hour RSI has been overextended for the past 3 days but the bulls have managed to defend the 12-period EMA support level several times in a row.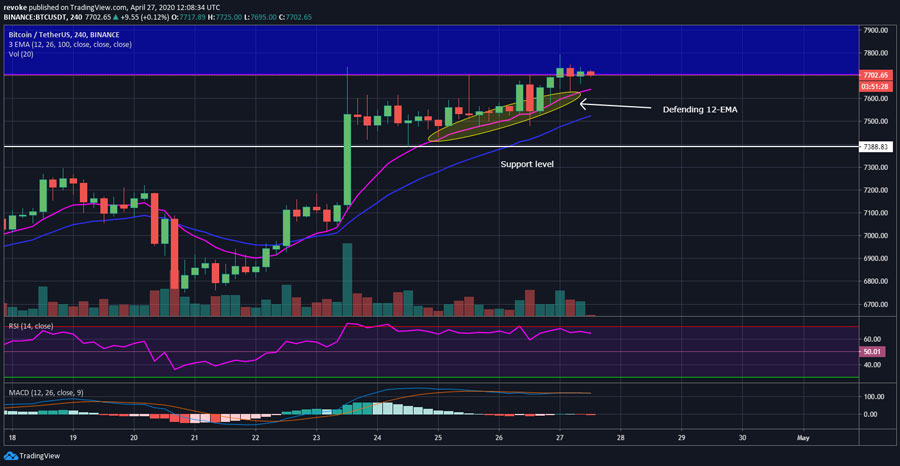 Bitcoin is still in an uptrend here and as long as the bulls can keep BTC above the 12 or 26-period EMAs, they will still be in control. The most important support level for BTC is now set at $7,388, a break below this level would signify a clear change in the short-term trend and a possible reversal on the daily chart.
Bitcoin could still see some upside action despite all the resistance ahead. Bulls might be able to push BTC up to $8,000 before a clear rejection.