The blockchain community is excited as Bitcoin miners achieved a significant milestone on November 12 by reaching their annual revenue peak, surpassing $44 million in block rewards and transaction fees.
This marked a notable shift in the overall trend during 2023, with entrepreneurs in the crypto space taking charge and contributing to restoring investor confidence.
The revenue generated from Bitcoin mining primarily comes from rewards for confirming transactions and creating new blocks using high-tech computer equipment known as "mining rigs."
Currently, miners receive 6.25 BTC for every successfully created block, in addition to associated transaction fees.
Surpassing the $44 million mark represents the first time this figure has been reached in 2023, according to data from blockchain.com.
Between April 2022 and November 2023, various factors contributed to the decline in global Bitcoin miners' revenues.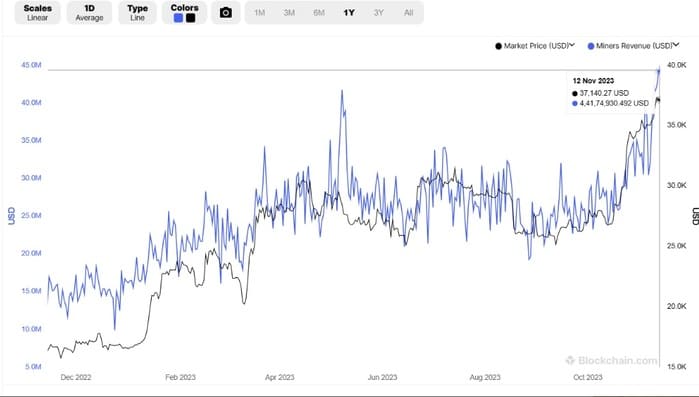 Among them is an extended bear market, negative investor sentiment due to scams and ecosystem collapses, as well as unfavorable regulations restricting BTC transactions.
However, the year 2023 witnessed a general trend reversal as entrepreneurs took decisive actions to restore investor confidence.
This shift, coupled with rising market prices and growing interest among the masses, resulted in a steady increase in revenue within the mining community throughout the year.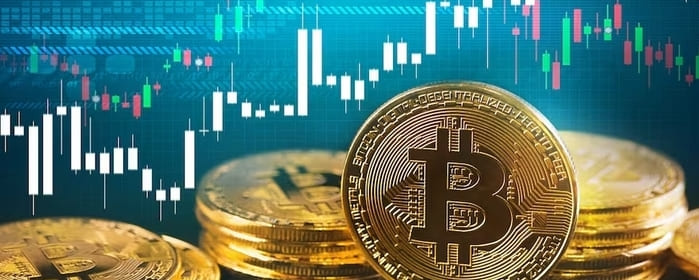 Many Countries Invest in Bitcoin
Bitcoin mining company Marathon Digital Holdings reported an impressive 670% year-on-year revenue surge in the third quarter of 2023, accompanied by an almost five-fold increase in Bitcoin production.
In addition to mining companies and individual miners, numerous countries actively participate in securing the Bitcoin network through mining.
Recently, it was reported that the landlocked Asian country, Bhutan, has been mining Bitcoin with hydroelectric power since April 2019 when the BTC price was $5,000.
Bhutan is negotiating with Nasdaq-listed mining company Bitdeer to secure 100 megawatts of power for a BTC mining data center.
This partnership could increase Bitdeer's mining capacity by approximately 12%. This is indicative of the global interest in Bitcoin and the strategies countries adopt to participate and benefit from the cryptocurrency.