The holders of Bitcoin (BTC) were subject to another shock as volatility increased and investors struggled to digest the FOMC minutes. These minutes point to additional increase in interest rates, more than what investors initially expected. In the aftermath of the release of these minutes, Bitcoin (BTC) dropped to nearly $23,600. The recent downturn in the crypto market comes after the CPI displayed inflation data to be much higher than expectations. Similarly, it also pointed towards increased regulation from the SEC. The release of these minutes was not the only catalyst that steered the crypto market towards decline.
Some of the other reasons that have caused a disturbance in the crypto market revolve around the SEC cracking down against Paxos and Binance. Similarly, the regulatory body has not shown any kindness towards crypto staking firms either. The SEC was responsible for the initiation of these chain of events as soon as it went after Kraken. The regulator claimed that the exchange failed to register and highlight the scale of its crypto staking services.
Keeping the current situation in mind, it can be said that many decentralized protocols might benefit from the current regulatory actions. Since users are opting for platforms that maintain their distance from regulating watchdogs. However, uncertainty around regulatory actions from authorities might lead to extensive volatility. Despite these ongoing issues in the market, the price of Bitcoin (BTC) has seemingly recovered. With a positive momentum in the last few hours, Bitcoin (BTC) has recovered by 1.85%. At the time of writing, it is trading at $24,507. At the same time, the total market cap of Bitcoin (BTC) is approximately $472 billion.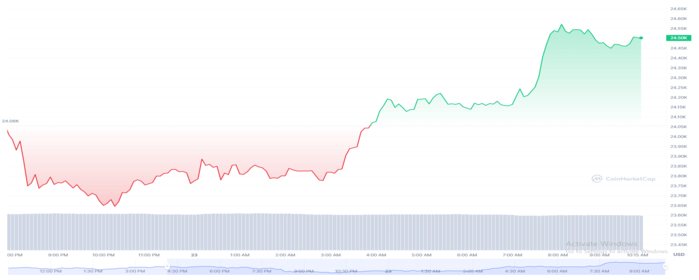 The Minutes of the Meeting- Bitcoin (BTC) and the Market
According to the minutes of the meeting, it was observed that slowing down the rate of interest increase would offer appropriate risk management. At this observance, the FED hiked interest rates by 25 basis points in January, in comparison to the previous 50-75 basis points. Some participants of the meeting even observed a reduced growth in consumer demand. However, it is now expected that FED might increase these rates by 50 points in March and another 25 points increase in May.
Despite the financial measures being softened up with time, it is still evident that these were inconsistent with the required policy restraint. The restraint would come in handy in an effort to pull inflation down to the 2% mark. Crypto analysts currently believe that Bitcoin (BTC) and other cryptos might be subject to pullbacks despite a promising rally. Thus, the crypto market is in for a jittery ride throughout 2023.