The crypto market has, once again, taken a turn for the worst as Bitcoin (BTC) has slipped below the $20K mark after a few underwhelming developments. The new Biden budget and the collapse of crypto-friendly bank Silvergate contribute to the market dump. Just recently, the US President, Joe Biden announced a new budget that targets investors earning more than a million dollars per year.
The proposed budget targets doubling capital gains for some investors. However, at the same time, the plan aims to minimize overall crypto wash sales. Furthermore, the Biden administration expressed a plan to accumulate approximately $24 million through the implementation of new crypto tax strategies.
The next contributor towards the decline in value of Bitcoin (BTC) is the crash of the crypto bank, Silvergate. The bank has been in the spotlight for a few days now, and its troubles are already known to the masses. A number of crypto firms recently cut their ties with the bank, which inevitably led to increased problems. As a result, Silvergate announced its plans of winding up its business. The complete shutdown of the bank would result in a considerable blow to how money flows throughout the crypto world.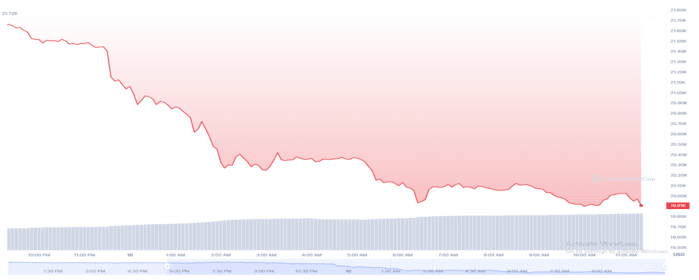 Bitcoin (BTC) and Other Cryptos Bleed Red
These issues resulted in an increased uncertainty and despair in the crypto world. At the time of writing, Bitcoin (BTC) has taken a considerable hit and fell by a whopping 8.34% in the last 24 hours. Amid this price degradation, the token is trading for approximately $19,906. At the same time, Bitcoin (BTC) currently has a total market cap of almost $384 billion. The total crypto market cap has slipped over 6.40% in a day, and currently stands at around $930 billion.
Bitcoin (BTC) displayed a remarkable increase since the start of this year, but unfortunately, the situation has taken a turn for the worse. Soon after the news regarding Silvergate became public, the token dropped by 5% in only an hour. Ever since then, the token has not been able to recover.
Bitcoin (BTC) is not the only token to trade in red. Numerous other tokens including ETH, ADA, SOL, DOGE, have been victims of the increased uncertainty. The current situation has made a lot of investors question the possibility of another crypto winter. However, the best course of action right now is to wait and watch.