The Chairman of the Federal Reserve, Jerome Powell, spoke on the monetary policy at the Economic Club of Washington. He insisted that interest rates need to be accelerated to tackle inflation. Powell floated the idea that borrowing costs may rise higher in comparison to the expectations of traders and policymakers. The situation seems to be in favor of Bitcoin (BTC) as the federal bank is beginning to tame inflation. However, nothing can be expected to happen within a blink of an eye, as continuous efforts are mandatory for this to happen.
Moreover, US equities reacted to Powell's anticipated speech. Thus, Bitcoin (BTC) did what it usually does, and moved in correlation with US equities. Previously, the FED opted for an aggressive monetary policy to bring inflation down to mere 2%. The FED Chief stated that inflation is slightly in control and this can also be a major breakthrough for financial markets in near future.
Powell added,
"The disinflationary process, the process of getting inflation down, has begun and it's begun in the goods sector, which is about a quarter of our economy. But it has a long way to go. These are the very early stages."
As a result of this statement, Bitcoin (BTC) went up and then fell down but it has maintained a respectable position above the $23K mark. It is evident that the crypto market has shown a positive momentum lately.  Bitcoin (BTC) has jumped up by 37.18% since last month. At the time of writing, the token is trading for approximately $23,212, signifying an increase of 1.21% over the last 24 hours. Similarly, Bitcoin (BTC) currently has a total market cap of almost $447 billion.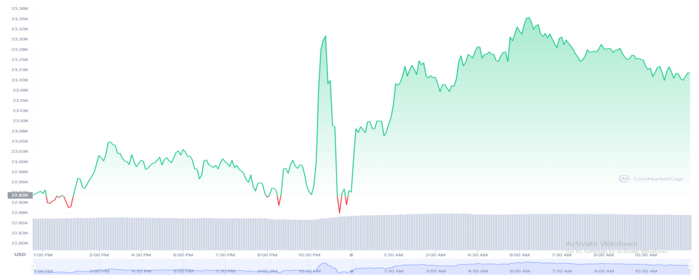 Are Bitcoin (BTC) and Other Cryptos Likely to Flourish?
The finance markets, including crypto, turned green momentarily as the FED indicated towards the halt of aggressive rate hikes. However, there is little to no clear indication when these hikes might finally come to an end. It is expected that these might continue until 2024 till the FED makes itself comfortable with the ongoing rates. Similarly, the FED claims that it expects 2023 to be the year of considerable decline in inflation rates. This belief is backed by the fact that the current decrease in inflation rates is better than what was initially anticipated.
Apart from that, Powell mentioned that increasing interest rates further might still be necessary. However, this would be considered if the job situation continues to remain hot. He said, 
"The reality is we're going to react to the data. So if we continue to get, for example, strong labor market reports or higher inflation reports, it may well be the case that we have do more and raise rates more than is priced in."
As long as Bitcoin (BTC) and other cryptos are concerned, analysts believe they might experience turbulence due to uncertainty. However, there's a chance they might stay stable because of their remarkable performance lately. As soon as the FED stops increasing interest rates, the crypto market might set its eye on the much-awaited bull run.