Bitcoin is the biggest and the most popular cryptocurrency in the entire virtual market. Its superiority in terms of market capitalization has never been challenged, as it continuously shocks the investing lot through its price hikes and records.
Even after struggling through bearish phases, Bitcoin has bounced off against predictions and negative analysis to provide solace to its investors and traders. This is primarily the reason that even after the emergence of several crypto coins, Bitcoin continues to be the most dominating and sought-after crypto token in the world.
Bitcoin rose significantly in the start of 2021. However, it was stuck in tight ranges in the second quarter of the year. The support level of $30K proved to be a major positive factor, in limiting the downward slide of the digital token. Therefore, the cryptocurrency giant then experienced an upsurge which pushed it close to the $50K mark.
The $50,000 resistance level proved to be a major hindrance for the coin's growth. Nonetheless, the recent hours of trading suggest that Bitcoin is all set to carry on with its rise after clearing this key resistance level. The trading charts of Bitcoin also suggest that a so-called golden crossover is nearing completion, which hints a long-term bullish pattern for the coin. Currently, Bitcoin is valued over $51,600.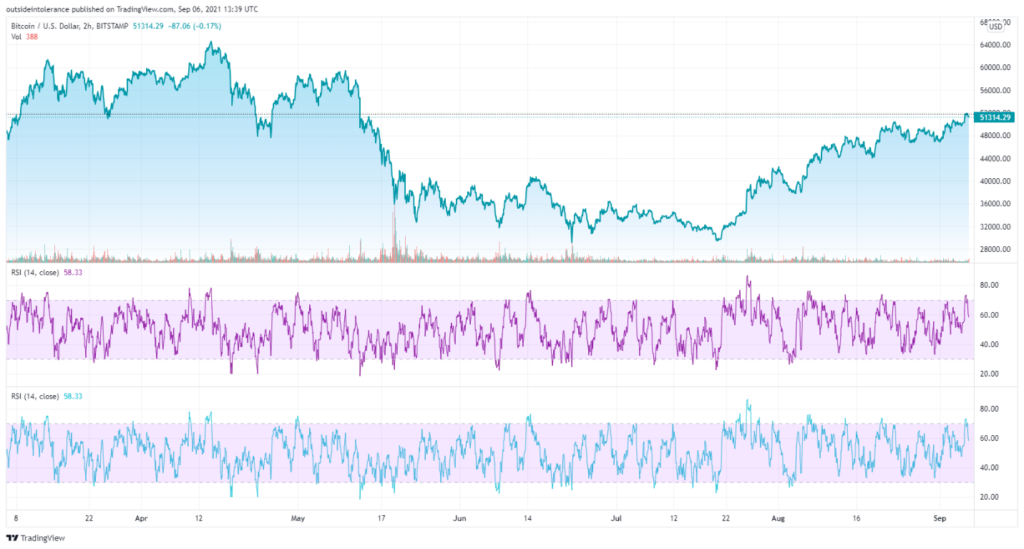 The Bitcoin bull market resumes
After successfully surpassing $50K, Bitcoin is expected to sustain its position over the psychological level. Therefore, experts believe that a consolidation from this point is unlikely to happen. Traders and investors all across social media platforms, like Twitter and Reddit continue to buy BTC in a coordinated manner. This is also practiced to pump the coin's price and strengthen the bullish momentum.
Many crypto geeks and analysts believe that Bitcoin is now well-poised to pull off a record upsurge in the coming times. Many of them believe that the coin may eye the six-figure to asserts its dominance on the market. Bitcoin is not facing any selling pressure, as traders are encouraged to carry on with their buying activities. The open interest and neutral funding rates of Bitcoin are also suggesting that an extended price hike may occur anytime soon. Bitcoin might face resistance at $60,000 or close to its all-time high value. However, for now it has induced positivity in the crypto community, encouraging them to carry on with their trades and investments to reap profits.