Over the last weekend, world's largest cryptocurrency found itself in hot waters, as its fall became more intense. Bitcoin had regained some composure and stability at over $38,000. However, the crackdown of Chinese regulatory authorities on Bitcoin mining farms came as a major setback for the digital coin.
China not only banned crypto mining, but also passed the bill to treat illegal miners against the criminal laws of the country. The Sichuan Province cut off the power supply to about 26 mining farms in the region, prompting a sharp decline in the hash rate of the coin. The unstable market has led to a major shedding in the values of different altcoins. Experts believe that the traders and investors could be in for a frustrating few weeks.
What to expect from the market now?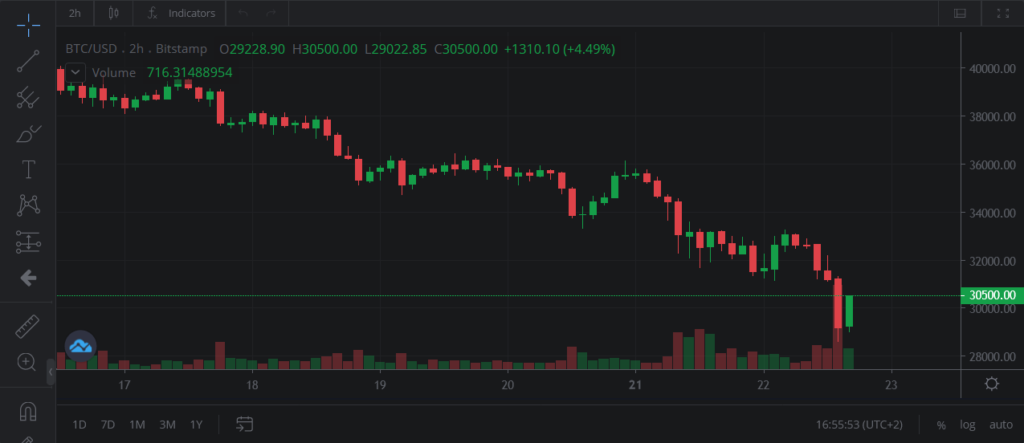 The traders and investors have been selling their assets citing fears of an even worse decline. However, since two days, the market for Bitcoin has been stable at just over $30,000. This range has the tendency to attract short term buyers, as it can be a good opportunity for them. However, Bitcoin facing a strong resistance at $36,000.
Bitcoin is now moving to a third consecutive bearish month after topping the charts in April. The digital currency is down by more than 22% within the last one week. However, through the bear market the buyers have strongly defended the support level of $30,000. A couple of times Bitcoin was able to bounce back off from this level. But this time the bullish momentum is significantly weaker. Another support for Bitcoin can be found at the mark of $27,000. However, a fall from $30K for Bitcoin can change the outlook of the market for worse.
China is intensively pursuing its crackdown against Bitcoin and its suspending of mining operation can have long lasting impacts. If the downfall for Bitcoin continues, the experts believe that it may revisit the mark of $25,000 or even $20,000 as the lowest point of this year without bouncing off.
The analysts have also predicted falling below $30,000 will be a 'massive hit' for the reputation and following of Bitcoin, and the whole crypto market. It well take a lot of time for the market to recover from that point and for traders to rebuild their trust.
Under such circumstances, the news coming from countries like El Salvador and Paraguay to legalize Bitcoin payments can provide a much-needed break to the digital coin.