During Thursday afternoon trading in Hong Kong, Bitcoin, and Ether, along with all other top 10 non-stablecoin cryptocurrencies by market capitalization, experienced a decline. Due to the absence of positive news catalysts, Bitcoin may drop to the support level of $28,500, with the possibility of even reaching $27,500.
Crypto Market Continues to Fluctuate 
During afternoon trading in Asia, Bitcoin remained relatively stable, trading at $29,485 as of 4:30 p.m. in Hong Kong. It had briefly rallied to $30,057 during yesterday's session. In recent days, Bitcoin and the broader crypto index have generally trended downward. 
Bitcoin experienced a sharp decline before recovering to over $29,000, but it continues to face resistance at the $30,000 level.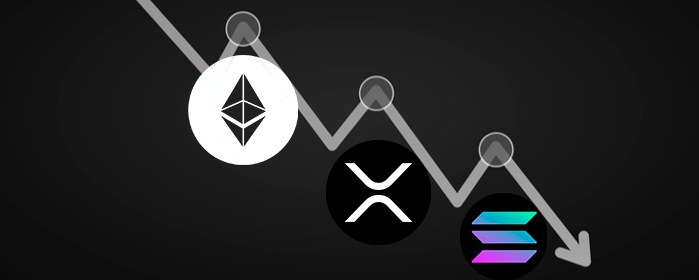 It appears that we are moving further away from the key support levels, indicating that Bitcoin may continue to decline. $28,500 serves as a crucial support level, and if Bitcoin falls below this price, it is likely to drop to around $27,500.
During afternoon trading in Asia, Ether experienced a 0.32% decrease, dropping to $1,850. Since July 23, it has remained below the $1,900 support level in the wider crypto market.
The XRP token experienced the largest decline among the top 10 cryptocurrencies, falling by 2.4% in the past 24 hours to $0.6262. This was followed by Solana's SOL token, which fell by 1.26% to $24.29.
All other top 10 cryptocurrencies also experienced declines in the past 24 hours, except for Tron's TRX token, which rose by 0.15% to $0.07684. According to data from CoinMarketCap, the total crypto market capitalization fell by 0.85% to $1.17 trillion over the past 24 hours, while market volume decreased by 23.42% to $30.91 billion.
After three consecutive days of declines, Bitcoin's 24-hour non-fungible token sales experienced a recovery, increasing by 7.97% to $308,469. According to CryptoSlam, the network rose to become the seventh-largest blockchain in terms of 24-hour NFT sales volume.