On Thursday, the European Central Bank (ECB) increased interest rates once more and announced plans to reduce its excessive balance sheet, preventing bitcoin from breaching $22,000 despite the most recent increase.
The bulk of altcoins, including Ethereum (ETH) and Cardano (ADA), are currently back in the red as the global cryptocurrency market is stripped of its over 1 trillion dollar level claimed yesterday.
The ECB Cuts Bank Subsidies
The ECB is hiking borrowing prices at the quickest rate ever, as Reuters reported on October 27.
This is because the central bank is concerned that the rapid price increase is becoming entrenched. However, the bank claimed that in its effort to stave off an unprecedented rise in inflation, significant progress had already been accomplished.
The deposit rate at the 19-member central bank of the euro

increased by another 75 basis points to 1.5%,

the highest level since the 2009 financial crisis.
Additionally, it stopped providing a key subsidy to banks to get them to repay early loans from the ECB worth trillions of euros and said that in-depth negotiations on winding down the ECB's enormous holdings of primarily government bonds will start in December.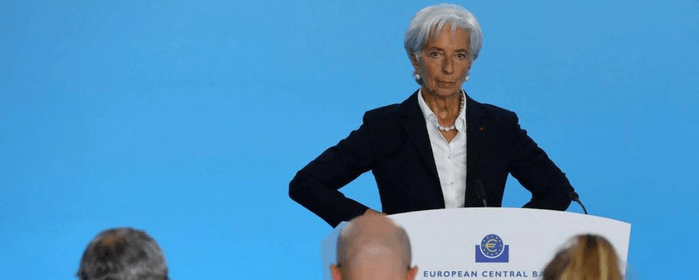 Although the bank hinted in its policy statement that rate rises would probably occur at "several" more meetings, ECB President Christine Lagarde stated during a press conference that there will be other rate increases in the future.
"So it might well be several meetings," she said.
Lagarde also rebuffed political allegations that the Eurozone risked entering a recession as a result of swift rate increases, asserting that it was her responsibility to bring inflation under control.
She admitted that rising energy costs and higher rates increased the possibility of an economic slowdown, but insisted that it was the duty of governments to protect their most vulnerable citizens throughout the crisis.
Everyone needs to perform their duties, she insisted, and the bank must preserve price stability.
"We have to do what we have to do," she said. "A central bank has to focus on its mandate."
Crypto Market Cap Drops 1.65%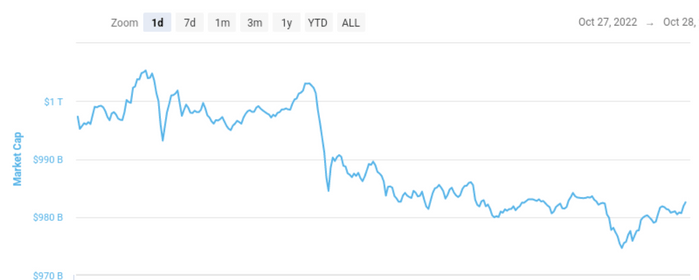 The crypto market had a short moment of optimism on Wednesday through yesterday–when the market cap momentarily reached $1 trillion and BTC surged to nearly $22,000 before swiftly declining as the ECB said it will hike interest rates by another 75 basis points. At press time, the market capitalization is just a little above $981 billion.
Bitcoin's current price is $20,189, with a market valuation of $387 billion. The leading crypto asset has increased by 6.20% in the last 7 days.
Also, Ethereum is currently trading at roughly $1,500, down about 2.7% from the previous day.