On Friday, the prices of Bitcoin, Ether, and other cryptocurrencies fell. Meanwhile, U.S. equities remained unchanged as investors awaited the release of the August jobs report.
Most of the top ten non-stablecoin cryptocurrencies experienced a drop in value in Asia. Bitcoin's price rose above $26,000, reversing most of the gains it had made following a favorable U.S. court ruling for Grayscale Investments in its Bitcoin ETF case against the SEC on Tuesday. 
Equity futures in the U.S. were relatively stable after a mixed session on Thursday. The personal consumption expenditures (PCE) index increased as consumer spending continued to rise. Investors are anticipating that the U.S. payroll report for August will provide more insight into future interest rate policy.
Crypto Market Lost the Momentum Gained by the Grayscale Bitcoin ETF Victory
According to CoinMarketCap data, Bitcoin's value decreased by 4.42% over the last 24 hours, reaching $26,042.84 in Hong Kong. The token has also experienced a 0.26% decrease in value over the week.
This drop in value occurred alongside a decline in the value of other cryptocurrencies, following an announcement by the U.S. Securities and Exchange Commission (SEC) on Thursday that it will delay its decision on seven spot Bitcoin exchange-traded fund (ETF) applications until October.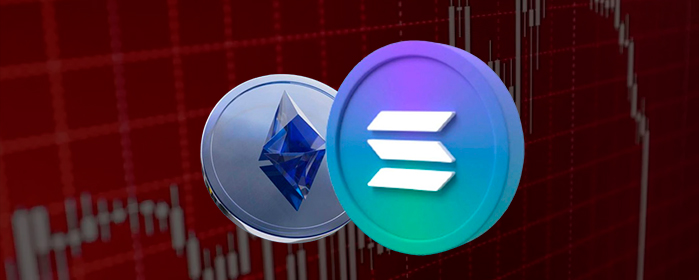 Some of the world's largest asset managers, including BlackRock, WisdomTree, and VanEck, are among those awaiting approval from the SEC for their ETF applications.
Over the past 24 hours, Ether's value has decreased by 3.15%, reaching $1,648.76. This represents a weekly loss of 0.33%. The technical signals for Ethereum are currently showing mixed trends across different time frames. 
Market data for Ether indicates that the token is on track to form a "death cross," which is often viewed with caution by market participants. This cross occurs when the short-term average falls below the long-term trend and is generally considered a sign of further losses to come. At present, the short-term 50-day average is at 1808.3, while the 200-day average is at 1802.9.
Most of the top ten non-stablecoin cryptocurrencies experienced losses, with Solana's SOL being the biggest loser. Its value decreased by 5.07%, reaching $19.81, its lowest level in over six weeks. This decline occurred after Clockwork, a Solana-based automation network for smart contracts, shut down on Monday.
The total market capitalization of cryptocurrencies decreased by 3.46%, reaching $1.05 trillion. On the other hand, trading volume increased by 16.61%, reaching $37.31 billion.