In the crypto market on Monday, the major tokens regained some of their lost gains. Even though daily prices have been marginally reduced, token prices of Cardano, Maker, and XRP have increased by up to 10% in the last 24 hours.
China Banking Association warned members about the risks associated with virtual currencies, causing nearly all cryptos to tumble in price. There have been murmurs about tighter regulation of digital tokens. However, the crypto market currently remains bullish despite the massive crash. Cryptocurrencies have experienced less volatility in recent months, but major tokens are down by a third in March due to increasing regulations. After gaining in the first few months of this year, many digital currencies are trading at half their peak.
How has India degraded crypto in the last few days?
Many domestic banks have implemented strict policies against customers using their bank accounts to transact in cryptocurrencies. In India, customers have received official notices from major lenders that they will face curbs, including the permanent closing of their accounts. After the RBI's 'informal' diktat that asked banks not to deal with cryptocurrency exchanges last week, this is the first concrete action taken by the ministry. Crypto exchanges and traders have reacted strongly to the move. Although market analysts believe the market will likely ride an upward trend in the coming days, and possibly weeks, they advised investors to remain cautious.
Recent market updates
Despite the sluggish market on Saturday, bitcoin touched an all-time low of $33,425. The volatile market also took its toll on Ethereum (Ether) as it fell to a low of $2,262. The Bitcoin price slowed down on Monday, despite an apparent recovery on Sunday. In the morning, the price of the most popular cryptocurrency fell by nearly 1% from the previous day.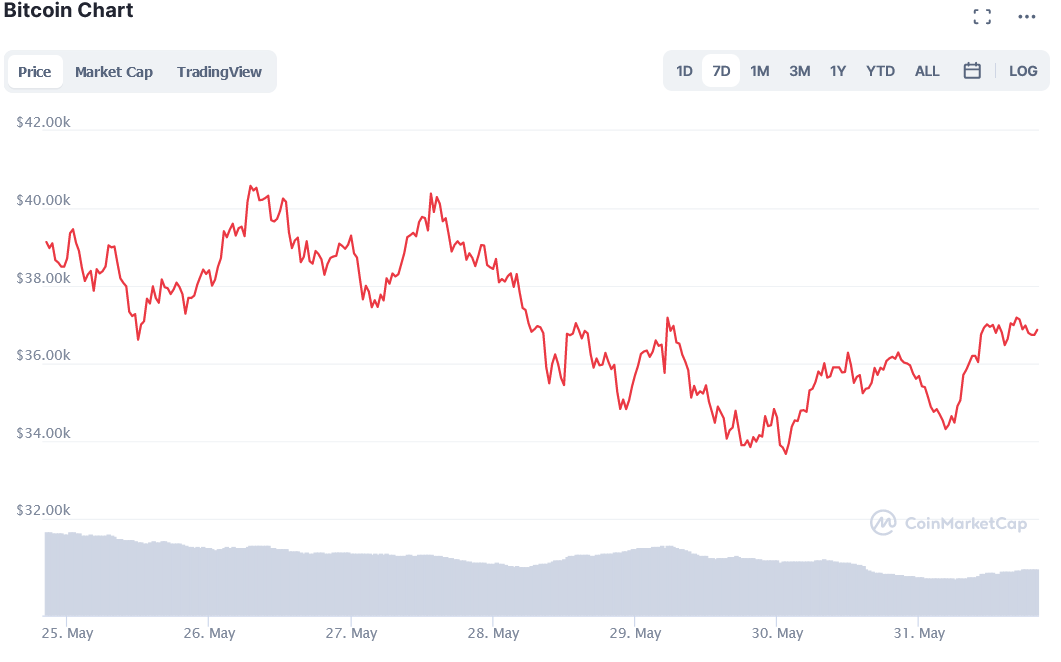 During the weekend, Ethereum also suffered losses. Right now, Ether is trading below $2,300, up only about 0.10% from its previous price. The price of Bitcoin has fallen nearly 40% this month, making it on track for the biggest monthly drop since 2011. In a similar vein, Ether is down 17 per cent after hitting a record high of $4,380 at the beginning of the month.
In the meantime, prices of other smaller cryptocurrencies remain mixed. Some, like Ripple and Cardano, are regaining their lost value, while Dogecoin, Stellar, and Litecoin have fallen. Since 2020, cryptocurrency trade has expanded, however, there is little regulation to protect investors, leading to high volatility in the coin market.