There's been no upward price traction on Polkadot price since the recovery from the May 23 low. As long as the 200-day simple moving average (SMA) is between $23.57 and $25.90, the progress of DOT may be restricted. Therefore, investors should examine long- and short-term opportunities.
In terms of price accumulation, Polkadot is still lagging behind. In May, the Polkadot price lost 36% after falling 75% from the high of $50.74 on May 15 to the low of $13.59 on May 23. On May 19, the crypto token collapsed by 60% before rebounding later that day. At $14.89, the low of the correction undercut the 78.6% Fibonacci retracement of the 2021 rally.
Following the low of May 23, DOT rose by more than 100% to a high of $26.66 on May 28 before dipping below the 200-day SMA. Polkadot's price has been influenced by the strategically important moving average for most of the days since May 23. This indicates that it is a major determinant of the digital asset's long-term direction.
What to expect from DOT?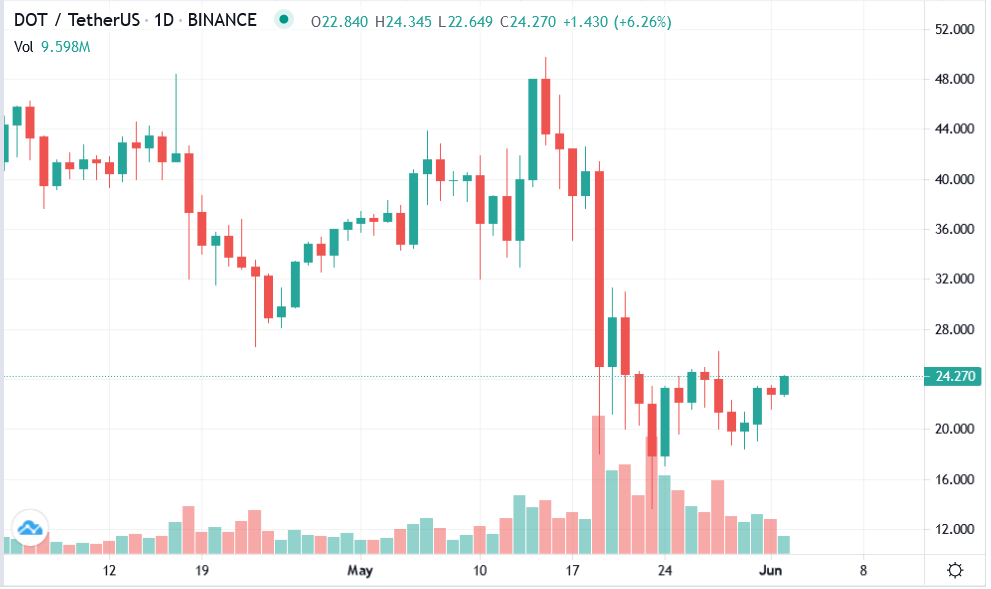 As long as a credible base cannot be identified on a relevant timeframe, the price strength of the Polkadots will likely remain limited to the 200-day SMA. DOT is dealing with a high degree of price compression as a result of the decline in its price, and it needs to be released before it can attract more committed investors.
Polkadot price will hit superior resistance at $25.90 if it does overcome the moving average at $23.57. This is just a level just above the April 23 low at $25.82 and the February 23 low at  $25.87. DOT reversed near the price level between May 26 and 28, confirming the importance of its continued downward movement. Investors will be encouraged to consider higher resistance levels if the daily close rises above $25.90, starting with the 38.2% Fibonacci retracement at $27.78  and then the 50% retracement at $32.16. The 50-day SMA at $34.05. will present resistance for ambitious investors.
Due to Polkadot's price being below a key moving average, it is advisable to take the downside into consideration. In addition to the May 30 low at $18.39, which represents a 20% decline, the May 24 low at $16.94 also serves as a support level for the DOT. If the cryptocurrency price falls further, it still has not recorded a definitive correction low.