The global cryptocurrency market and bitcoin have been subjected to a run of devastating lows over the last month, but those lows took on new dimensions at the start of this week, creating market tension and volatility.

Bitcoin fell to an 18-month low early today, months after hitting a record high, as investors shied away from riskier assets in the face of a worldwide market selloff.
Liquidation, margin calls, and fund losses have been the order of the day as Bitcoin has fallen below a major support zone, the $25,000 support zone.
The year-long bloodbath in the market began in January when asset whales began selling their holdings in a process known as whale redistribution. Aside from the Russian-Ukraine conflict, the selloffs were exacerbated in May when the US Federal Reserve raised its interest rate to 1%, the highest level since 2000, as part of its policy decision.
The market is currently experiencing the consequences of these events as well as the Federal Reserve's policy decision. The increase in the interest rate by the US Federal Reserve resulted in a strong dollar index, which is a measure of the strength of the US dollar.
The global cryptocurrency market lost its trillion-dollar status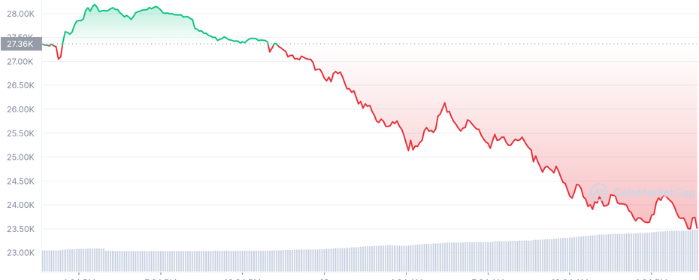 The market capitalization of all cryptocurrencies has dropped by almost 8%, and it now stands below $1 trillion as of this writing, suggesting that the market has lost its trillion-dollar status. The market capitalization is currently around $983 billion, with the largest coin commanding 46.9% of the market.
The market dropped from a high of more than $3 trillion in the last seven months when it was riding a wave of tremendous investor demand and rising acceptance from large financial institutions.
The flagship digital asset is currently trading at $24,053, down 23.59 percent in the last seven days, according to current data from Coinmarketcap. The most popular cryptocurrency is also down 64.24 percent from its all-time high of $68,789 set in November 2021.
As the selloff develops, every other altcoin, like bitcoin, has seen a 20 percent or greater drop in the last seven days. The CEL token, Celsius' native token, has dropped almost 50% of its value in just 24 hours, drawing a lot of attention.
All withdrawals, swaps, and transfers between accounts have been halted by the Crypto lending company, citing market conditions and the need to "stabilize liquidity."