Bitcoin, the leading cryptocurrency by market capitalization, has dipped below $27,000 yet again, in what seems to be a trend the coin can't shake off. The price drop comes amid a broader sell-off in the crypto market, which has seen most major coins lose value in the past week.
Monday's Market Its a Reflection of Current Volatile Climate, Even for Bitcoin
According to CoinMarketCap, Bitcoin was trading at $26,857 as of 10:14 GMT on June 5, 2023, down 8.7% in the last 24 hours and 36% in the last seven days. The coin's market cap has also shrunk to $508 billion, losing its dominance over other cryptocurrencies.
Among the top 10 coins by market cap, Litecoin was the biggest loser, dropping 2.43% in the last 24 hours. The coin, which is often seen as a faster and cheaper alternative to Bitcoin, was trading at $93.7 as of writing, its lowest level since November 2020.
Other major coins also suffered significant losses, including Ethereum (-1.45%) and Binance Coin (-1.88%). The gainers were XRP (+1.79%) and Solana (0.30%). The total market cap of all cryptocurrencies was $1.13 trillion, down 1.55% from the last 24 hours.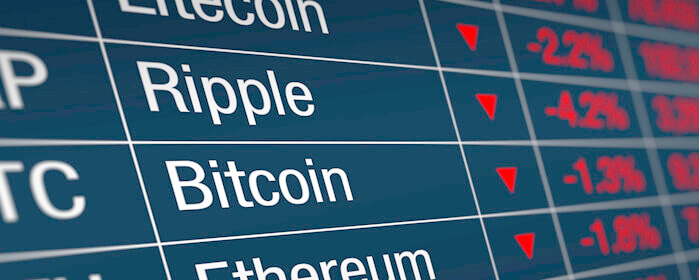 The reasons behind the crypto market crash are not clear, but some analysts have pointed to several factors that may have contributed to the bearish sentiment. These include:
The ongoing regulatory crackdown on crypto exchanges and activities in several countries, such as China, India, Turkey, the US, and Nigeria.

The increasing environmental concerns over Bitcoin's high energy consumption and carbon footprint, have led to criticism from prominent figures such as Elon Musk and Bill Gates.

The rising competition from other blockchain platforms and projects that offer faster, cheaper, and more scalable solutions than Bitcoin, such as Ethereum 2.0, Solana, and Cardano.

The lack of institutional adoption and innovation in the crypto space has reduced the demand and interest from investors and users.
NFT However, Show a Stronger Stand
The seven-day NFT collection rankings by sales volume show a lot of green, indicating a strong demand for digital collectibles. The Captainz, a Bitcoin-based project, is the top performer, followed by Bored Ape Yacht Club (BAYC) and Mutant Ape Yacht Club (MAYC), both on Ethereum.
The rankings also reveal the competition for third place among different blockchains. Solana is currently in the lead with almost US$10 million in sales volume, but other platforms like Terra and Tezos are not far behind. Ethereum and Bitcoin remain the dominant forces in the NFT space.