The crypto market is constantly struggling from the last two months. The bearish trend has persisted with the market after it topped the charts in April of this year. The worth of almost every major cryptocurrency, including Bitcoin and Ethereum has been halved from their all-time highs. Several external factors have helped in toppling he digital currencies from the top.
However, within the last 24 hours, the market has had a sigh of relief. Previously, the price of Bitcoin (BTC) fell below the crucial mark of $30,000 for some time. This was the first time since January that it had happened. The $30,000 mark had proven to be a major support level for the world's largest crypto token. However, a downward slide from that point was a major concern for crypto enthusiasts.
The less experienced and beginners were in a state of panic and shock, as they are yet to experience a complete market cycle. Data from TradingView showed that Bitcoin touched a low of $28,800, prompting panic selling in the investing sector. Many experts had previously said that a break below $30K can pull Bitcoin back at $20K. Thus, a chaos in the market was inevitable.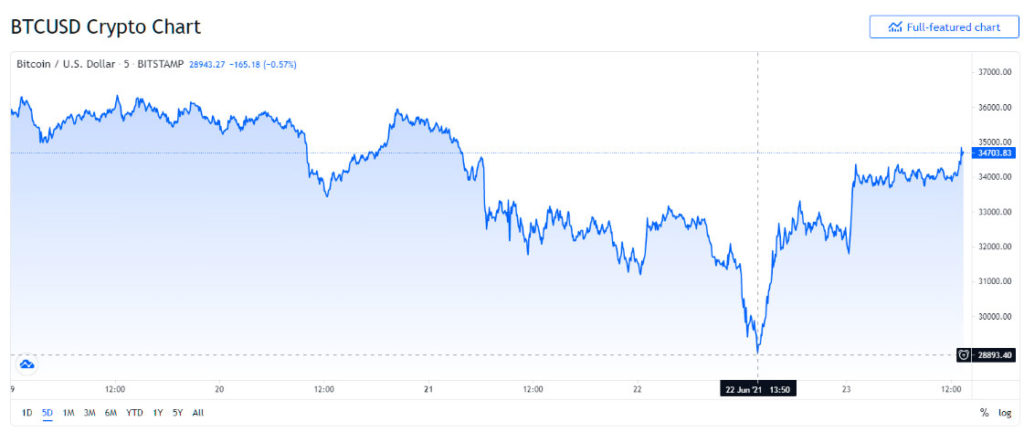 The shape of crypto market in the coming days
After this decline, the dip buyers jumped in and helped Bitcoin to make an upward move. Bitcoin passed the $30,000 mark again and is currently traded at $34,200. This is a major boost for the crypto token, as the increase in worth will also help the altcoins to grow. Ethereum is also over the $2,000 mark again which can be a positive indication for the market after constant dips.
However, experts believe that BTC still suffers from a lack of buying volume. This can mean that the crypto market has still not touched its lowest point yet, and another dip can be expected any time soon. This upsurge for Bitcoin came after the positive remarks of Brian Nelson about the crypto market. He is a nominee for Under Secretary of the Department for Treasury's division on terrorism and financial crimes.
On the other hand, the crackdown of Chinese regulatory authorities on Bitcoin mining farms is a very concerning factor for the market. This crackdown has ignited the volatility of the market and China is by no means taking any step back from its rigid decisions. Thus, it is yet to be seen how the market fares in the next few days.