Bitcoin recovered from a trough below $30,000 as stock market volatility eased and a wave of calm rolled across global markets.
As a red wave continued to sweep the cryptocurrency market, the coin fell to a ten-month low to begin the current trading week. Following a five-day stretch of BTC/USD fell to an intraday low of $32,813.31 on Monday as a result of the falls.
According to CoinMarketCap's price index, today's bottom is the lowest level prices have traded since July last year, when prices dropped below $30,000, and more than 50% off its all-time high, marking the latest in a series of dramatic capitulations since its price peak in November.
"Extreme Fear Among Investors"
Experts claim that Bitcoin and other cryptocurrency values are collapsing due to a widespread sell-off fueled by investor panic. Even institutional investors appear to be dumping their crypto assets in large quantities, causing the price to plummet.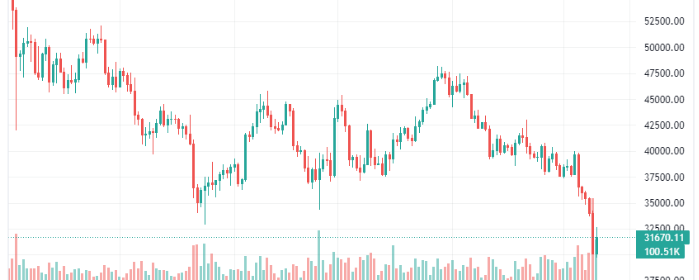 Darshan Bathija, CEO and Co-Founder of Vauld, told FE Online,
"Due to a broad sell-off, BTC prices dropped below the $30,000 level for the first time since July 2021, while ETH prices stood at $2319. The Crypto Fear And Greed index was in the "Extreme Fear" zone, a sign that investors were too worried and were selling their holdings to minimize losses."
Bitcoin fell below $30,000 on Tuesday morning, putting it on the verge of hitting a major support level, which many believe will be crucial for BTC's future price trajectory.
However, El Salvador's plans to develop Bitcoin City, which will be erected in the shadow of a volcano in the Central American country, appear unaffected by the recent bitcoin price fall.
On Monday, President Nayib Bukele made the country's largest Bitcoin purchase, announcing that the country had purchased 500 Bitcoin for an average of $30,744 apiece. Early today, the president tweeted that he had made up to a million dollars within 11 hours of the purchase.
I could sell this coins right now and make almost a million dollars in just 11 hours, but of course not 🥰 https://t.co/BrZx3dwA5q

— Nayib Bukele (@nayibbukele) May 10, 2022
President Nayib Bukele of El Salvador also unveiled photographs of a model of the future metropolis, with construction set to begin later this year.