After another round of falls in the last few days, the global crypto market cap has recovered. And the crypto market cap was $1.27 trillion at the time of writing, up 4.52% from the previous day, according to CoinMarketCap.
Following a major meltdown and widespread dread, the crypto market has been unable to move higher for several weeks, remaining stuck in the $1.20-$1.31 trillion zone, with analysts predicting that recovery will take longer this time.
Bitcoin, the most valuable cryptocurrency by market capitalization, has regained its 30k price at the time of writing, after falling below 29k last week. It has gained 5%, with a market capitalization of around $583 million.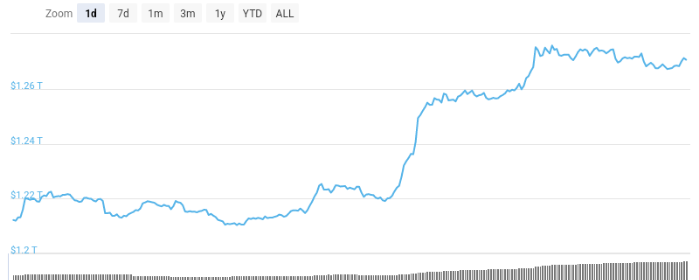 Other top coins follow suit
Following Bitcoin's $30k recovery, the rest of the cryptocurrencies, particularly the biggest ones, have risen in tandem. Ethereum has also followed the trend, with a gain of roughly 6% at the time of writing this. The second-largest cryptocurrency has lost 8.18% in the last seven days, and as usual, maintains its position.
The Binance Chain token, BNB has also increased by 4.9% to $317 in the last 24 hours. In the last seven days, the price of BNB has declined by 4.20, and it still maintains its position as the fifth most valuable crypto asset.
XRP also in the previous 24 hours, has risen by 4.9% to $0.3998. The price of XRP has dropped 5.98% in the last seven days. In terms of market capitalization, it is now the 6th largest crypto asset.
Similarly, Cardano (ADA), Solana (SOL), Avalanche (AVAX), Polkadot (DOT), and other prominent currencies are all in the green, with a little uptick in the last 24 hours.
The present dominance of Bitcoin as the leading crypto asset is 46.0%, while Ethereum's dominance is around 18.1%. In the last seven days, the price of Bitcoin has climbed by 0.75%. However, the Bitcoin price was $30,625 at the time of publication.