The cryptocurrency market is known for its volatility, which is among the main reasons why some traders prefer to avoid trading during this season. Bitcoin (BTC), the world's first cryptocurrency, has a history of printing new all-time highs on a regular basis.
Due to inflation, geopolitical tensions, and other factors, the crypto market, like the broader financial markets, has taken a hit. This will not last indefinitely, and the cryptocurrency market will eventually rebound.
In the last 24 hours, the cryptocurrency market has seen another round of selling, with Bitcoin (BTC) falling to roughly $28,000 (down more than 50% from its all-time low last year) and Ether (ETH) momentarily falling below $1,800 to around $1,750. The ETH/BTC pair also fell below what traders consider to be a significant rising trendline, a move that some believe could lead to fresh lows for Ether.
Up to $106 million liquidated from the cryptocurrency market in the past 5 days
According to Coinmarketcap data, the overall market value of the global cryptocurrency market has declined by up to $106k million in the last five days, falling from roughly $1.33 trillion to around $1.19 trillion at the time of writing.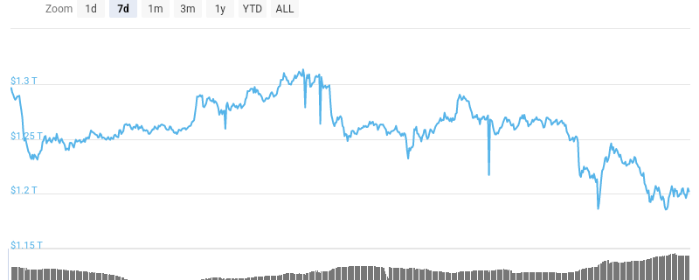 The total market capitalization of the largest cryptocurrency, Bitcoin, fell to $550.73 billion, a decline of 5% in the last 24 hours. Ethereum, the second-largest cryptocurrency, has followed suit, dropping 13% and bringing its total market cap to $213.92 billion.
The Terra ecosystem's collapse has exacerbated the situation in recent weeks, with its native cryptocurrency, LUNA, plummeting from $85 at the beginning of the month to an unfathomable low of $0.0001644 at the time of writing. Although, with the launch of Terra 2.0, which is set to go live tomorrow, there are hopes to revitalise the ecosystem.
1/ Yesterday, we said Terra 2.0 is coming. Tomorrow, it arrives.

The community has been working around the clock to coordinate the new chain's launch. Subject to potential change, we expect Terra to go live on May 28th, 2022 at around 06:00 AM UTC.

— Terra 🌍 Powered by LUNA 🌕 (@terra_money) May 27, 2022
However, this isn't just about LUNA or Bitcoin or Terra; the slump has thrown the entire crypto market into disarray.
Before all of this, it was easy to predict that Bitcoin would approach $100,000. However, with the crypto industry grappling with growing inflation and tighter monetary policies, that price projection appears to be a long way off. Experts believe the coin can still reach $100,000 but not so soon. While others, such as Guggenheim's Chief Investment Officer Scott Minerd, believe there is much more downside to crypto, predicting that bitcoin's price will fall to $8,000.