Being the leader of the cryptocurrency sector, Bitcoin not only dominates the market but also triggers new trends. The price trajectory of Bitcoin never ceases to surprise the crypto community. Similarly, Bitcoin touched new highs and lows at different intervals over the last year. The leading token went through different phases in each quarter.
Towards the end of 2021, Bitcoin underperformed in terms of value. This resulted in a bleeding market, and Bitcoin has constantly struggled since then. The anticipation around the new year could not help the coin go back up. Therefore, Bitcoin is again off to a slow start in January.
Since the last week, Bitcoin's value has dipped by over 8%. The coin is valued at around the $46,500 mark at the time of writing. The market cap and the trading volume of the coin have also shrunk amid crashing prices. The demand for the coin in the market has slowed down. The coin has to reach $48,000 in order to touch upside targets. The next resistance level will be $52,000 for the token upon reaching that point. However, a further degradation could pull back the price of BTC to almost $41,000.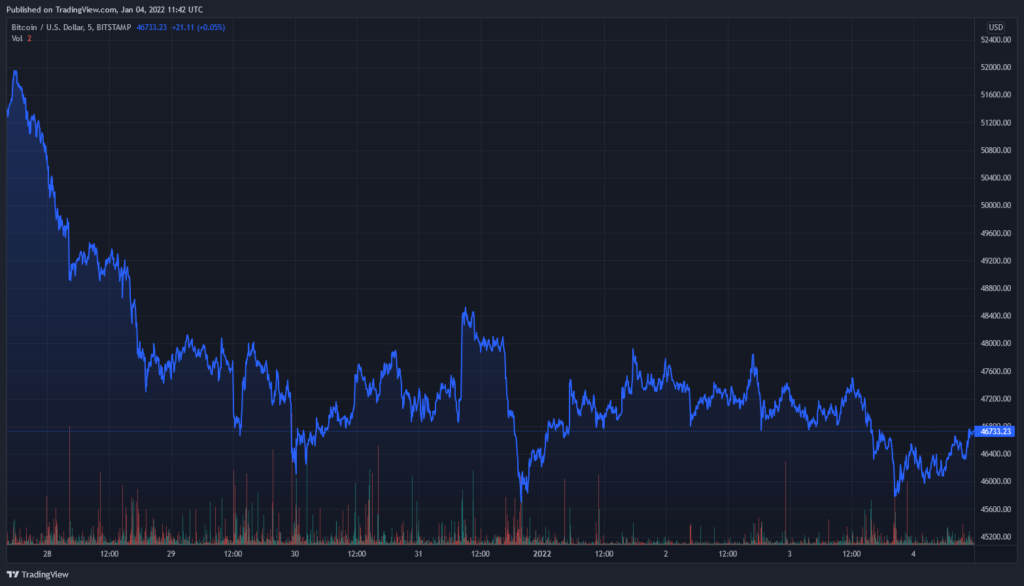 Bitcoin whales continue to buy the dip
Experts believe that currently, Bitcoin's price is in a make-or-break position. The whale activity around the asset has reached its peak over the last weekend of 2021. Whale investors bought the coin's dip to trigger a spike in the token's price. However, the coin suffered in the following week and formed a two-week low. The trading volume and the on-chain activity of BTC have also dropped on Coinbase.
Analysts believe that large wallet investors are forcing Bitcoin's price to lower. Almost 3,600 Bitcoins were sold on the FTX exchange. This might imply that Bitcoin will have to linger around the $45,000 mark for a bit longer than expected. These analysts now predict that it would be difficult for the coin to make a comeback until whales get what they want.
However, BTC must cross the $51K-$52K range to invalidate this predicted bearish trend. Otherwise, it might hold $45,000 in the short term and $41,000 in the longer run. On the other hand, Ethereum is comparatively performing better than BTC, and Ether's dominance is also increasing in the market. Nonetheless, there is also a belief that an altcoin season might be on its way since Bitcoin's performance is clouded with uncertainty.