The cryptocurrency sector is constantly growing as more blockchain protocols hit the market. According to CoinMarketCap, there are over 16,300 crypto coins and tokens in the market. These coins are being traded on more than 450 cryptocurrency exchanges around the world. Several blockchain protocols initiate their own exchanges to facilitate their consumers and users. Cosmos is also one such network, and as its first decentralized exchange, Osmosis is gaining a lot of traction from the crypto community.
Osmosis is based on the Cosmos network, and it has recently crossed $1 billion in total value locked (TVL). The exchange achieved this milestone at the start of this week. As a result, the Osmosis token (OSMO) has also surged significantly. OSMO gained almost 13% to reach $7.78 over the last day or so. The token is currently valued at around the same mark.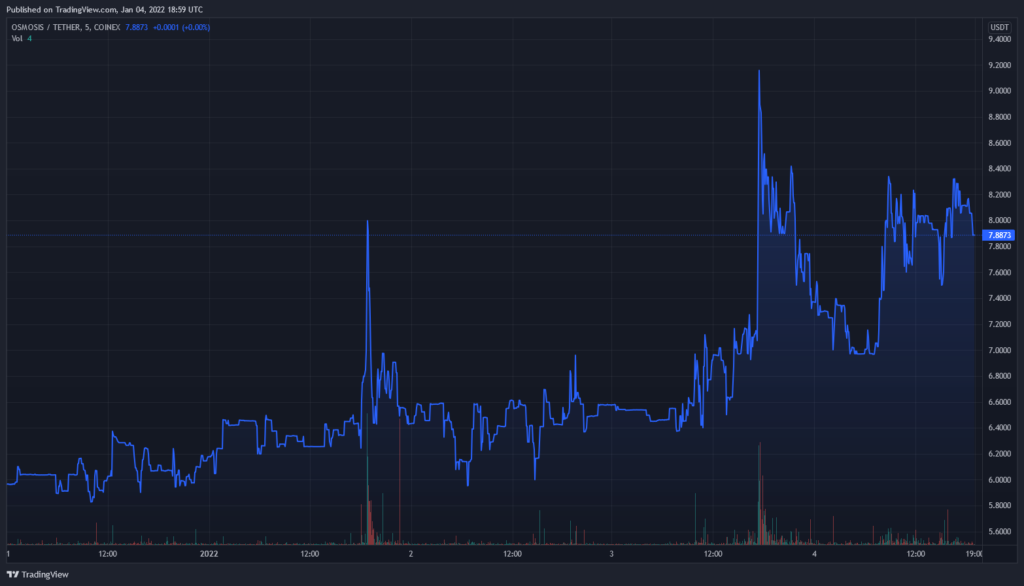 The Osmosis token has reached new highs since its development. It crossed its previous high of $6.80 from November 2021. The coin looks set to make more gains as the Cosmos network becomes increasingly popular among the consumer sectors. The native token of Cosmos also made significant gains over the last week. However, the trading volume on Osmosis has grown from $4.1 million in July 2021 to $46.6 million in December 2021.
How does the Osmosis blockchain work?
Holders of the OSMO tokens also earn rewards and a right to participate in the governance decisions of the network. Osmosis blockchain has attracted more users to its protocols as it competes with the Ethereum blockchain. Users find alternatives to the ETH blockchain because it is highly expensive and has a slower transaction process.
Osmosis heavily relies on smart contracts to execute trades between consumers and users. This ensures the reliability and transparency of the network for users. As a decentralized exchange, Osmosis plans to expand to other blockchains, like Ethereum and other blockchains that are compliant with the IBC protocol. The IBC protocol helps blockchains to share and transfer data between them.
Similarly, Cosmos aims to create an ecosystem where several blockchains can communicate with each other. Users will be able to interact with other blockchains without manually accessing them through different applications. Cosmos is currently the eighteenth-largest blockchain protocol in terms of market capitalization. The protocol is growing because of the success of Osmosis, and it is expected to climb the charts of popularity further.