Bitcoin has always played the role of a trendsetter in the cryptocurrency market. Being the first and the most popular cryptocurrency in the world, Bitcoin has been the most sought-after coin in the industry. In terms of valuation, market capitalization, and even trading volume, Bitcoin has always topped the charts by being the undisputed leader of the crypto sector.
However, regardless of its immense success over the years, Bitcoin also suffers from long bearish patterns in the market every now and then. In only the year 2021, Bitcoin has topped at over $64,000, and plunged down to the lows of $28,000 in a matter of weeks. This shows the extreme unpredictable nature of Bitcoin, as well as the entire cryptocurrency market. The bullish or bearish trends of Bitcoin also moves other altcoins accordingly, a phenomenon which is clearly evident in the fluctuating market. Nonetheless, Bitcoin has successfully staged a recovery in the market, and has moved past crucial resistance levels.
Bitcoin up by 70% since the lowest point of June
As the chart below shows, Bitcoin was struggling in June and July, as it was stuck in the range of $30K-$40K. At times, it also fell below the $30,000 mark, however, it always found ways of bouncing back. Nevertheless, it recently made a commendable upsurge and crossed $50K. Many experts anticipated a correction, but Bitcoin has continued to rise steadily. This is the longest winning run for Bitcoin in almost nine months.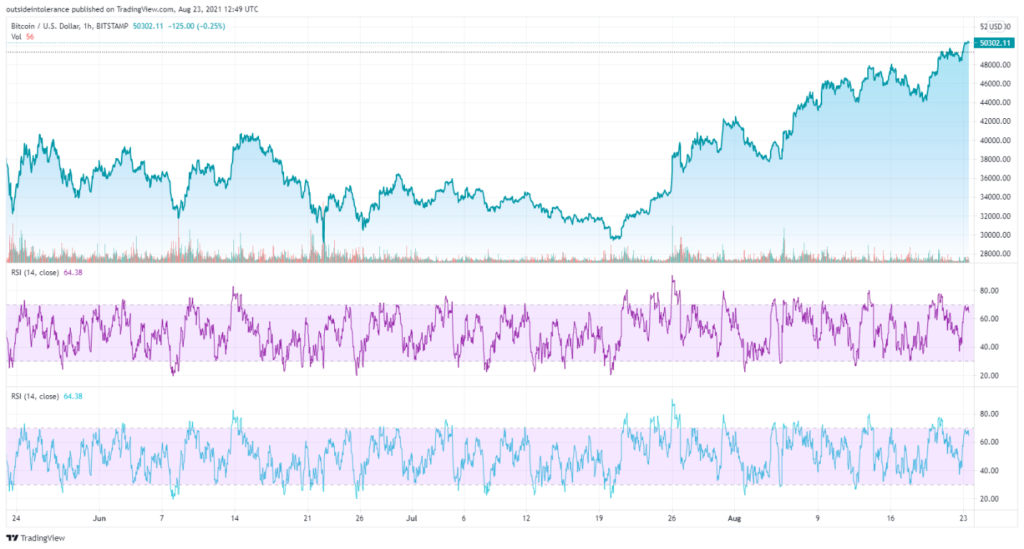 As a result of Bitcoin's growth, other cryptocurrencies, including Ethereum, ADA, XRP and many others have also fared at a better rate. Also, the total value of the entire crypto market has gone up by almost $1 trillion in the past month. This is primarily the consequence of Bitcoin's growth.
The overall market sentiment has also stayed positive, and many related news and announcements have helped in triggering the bullish pattern. The announcement of PayPal to allow crypto transaction for UK customers is one such development that has hinted towards a wider adoption of the crypto industry.
Many analysts and experts are expecting Bitcoin to surpass its current all-time high, and some of them are even eyeing the $100,000 mark for the coin. However, it is safe to say that Bitcoin has repeatedly nullified every prediction related to itself, and though the future for the coin might look uncertain but it surely is brighter than ever.