The high volatility of the cryptocurrency market is probably its most distinctive feature. The market continues to send shock waves into the trading and investing sector through its unexpected fluctuations. With thousands of digital coins, the market continuously shifts trend and moods. Mainstream crypto tokens like Bitcoin and Ethereum are usually responsible for driving these trends and influencing the market. However, now new names are emerging in the market, as projects like Cardano and the Binance Coin increase their dominance over the crypto industry.
Currently, the crypto market is experiencing a bull run. Several cryptocurrencies are surging to their all-time highs, and many digital tokens are regaining their lost values in the previous bearish market. This has resulted in more flow of cash into the sector, as the market is now setting up to move in a more bullish manner.
The increasing supremacy of ADA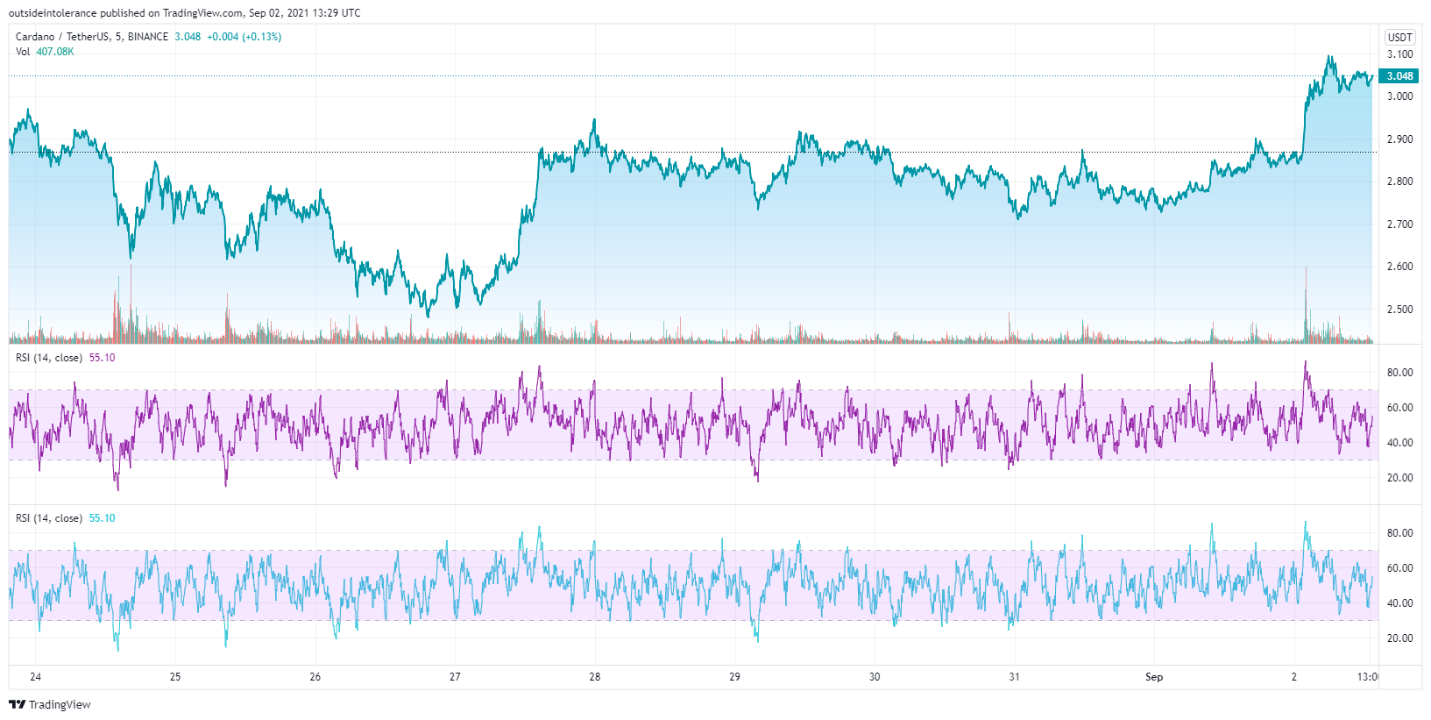 Even though the market is on a rise, the native coin of the Cardano Network, ADA, has shocked the entire crypto industry through its massive upsurge. With many altcoins on a rise, Cardano is leading the way by hitting an all-time high of over $3 on September 2. After almost reaching for $3.10, ADA is currently valued at around $3.04.
Cardano has shown immense strength in the past few weeks, and has grown indefinitely to cross its previous high of May. However, the coin struggled to cross $3 in the last two weeks. But it has bounced back from a slight correction in the start of September, and has crashed through the resistance levels. This bullish run is also anticipated for the much hyped Alonzo hard fork upgrade of the Cardano network that is expected to roll out in mid-September. The upgrade will allow the users of the network to utilize smart contracts, and therefore, it is expected that the altcoin will further grow once the update rolls out.
Cardano is increasing its dominance in the crypto market, as it has also jumped to the third place in the market charts, in terms of market capitalization. Cardano, along with Ethereum is challenging the dominance of Bitcoin, as the growth of the latter has been comparatively less than the other two. Experts believe that the recent market developments indicate a super bull cycle in the crypto market. It will help traders and investors to reap hefty profits.