With tonnes of cryptocurrencies in the market, the rate of unpredictability for these coins is significantly high. Almost every coin gets hit by the market volatility, but it all happens according to their own dynamics, fundamentals, and market performances. Moreover, it also depends on the current mood of the market and the trends that it follows. This is why we have seen a mixed market sentiment for the last few days.
Several altcoins are influenced by the performance of Bitcoin and Ethereum, the two giants of the crypto market. Bitcoin has always been the most dominating crypto token, and it has rightly driven the trends and moods of the market. However, in the last few days, it has been perceived that it is Ethereum that is currently shaping up the crypto market and not Bitcoin. While Bitcoin has not moved considerably, Ether has stayed more positive in the recent market developments.
Bitcoin remains stuck while ETH surges
Ethereum has experienced a breakout from the $3,400 range for the first time since May. It has added over 7% over the last day, and is currently valued at around $3,550, according to TradingView.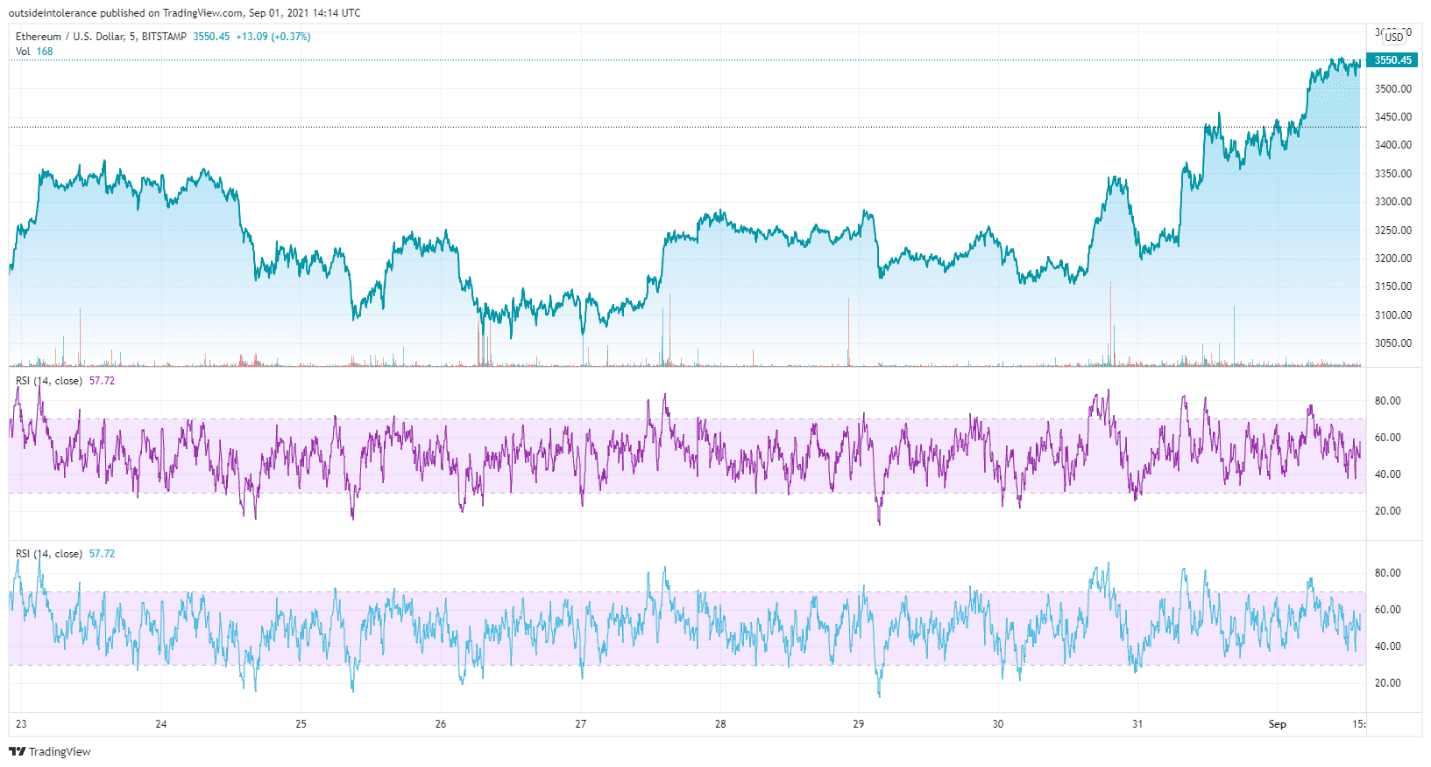 The upsurge of Ethereum has been going on for the past one month. It has grown for about 35% in last 30 days. There were a few reasons for its growth.
Firstly, the Ethereum blockchain burned 147,759 ETH tokens because of the EIP 1559 upgrade in the start of August. Therefore, a deflationary pressure as exerted on the asset, and a large number of tokens were omitted from the cycle. Secondly, the increase in NFT projects and sales of NFT collectibles have also influenced ETH positively.
On the other hand, Bitcoin continues to test the support levels, and has been unable to breach the $50,000 mark. The bullish momentum is rather weak for Bitcoin, and a huge upswing is not expected of the coin anytime soon. Nonetheless, Polkadot (DOT) fared quite well in the market, as it crossed $30 in the market. Apart from that the competitor of Ethereum, Solana (SOL) has achieved all-time highs in the marketplace. It did not crossed $100 but also extended its upsurge to touch $120. However, over the last day, SOL retraced a bit as it is currently at around $114.50. Experts believe that this consolidation might trigger another bull swing for the coin in the coming days.