There are tonnes of cryptocurrency tokens that have grabbed the attention of the investing lot in recent times. These projects have proved to be a reliable investing prospect because of their strong fundamentals and ideal core values. Such major cryptocurrencies carry a major influence over the rest of the tokens, and are certainly responsible for setting the mood of the market. Apart from mainstream currencies, like Bitcoin and Ethereum, Cardano and Ripple have also attracted a huge following from the crypto community.
In the last few days, the crypto market has tend to go greener, and traders have amassed commendable profits over their initial investments. Almost every coin has made improvements in their overall wealth. The trading volume of various coins have also experienced a major increase. Therefore, the market has shaped up to be quite stable and profitable after experiencing weeks of bearish movement.
ADA shoots up to a two month high
In this week, Cardano (ADA) has upsurged by a great degree, breaching the mark of $1.80 after more than two months. From about $1.53 it made an upsurge to a high of $1.87 on Wednesday. This was a major double figure percentage increase in the prices of ADA, that too, after a long time. However, ADA has eased out and is currently valued at around $1.75. The digital coin is still lagging behind its all-time high of $2.394, and it will have to continue the bullish momentum for long to achieve or overcome this mark anytime soon.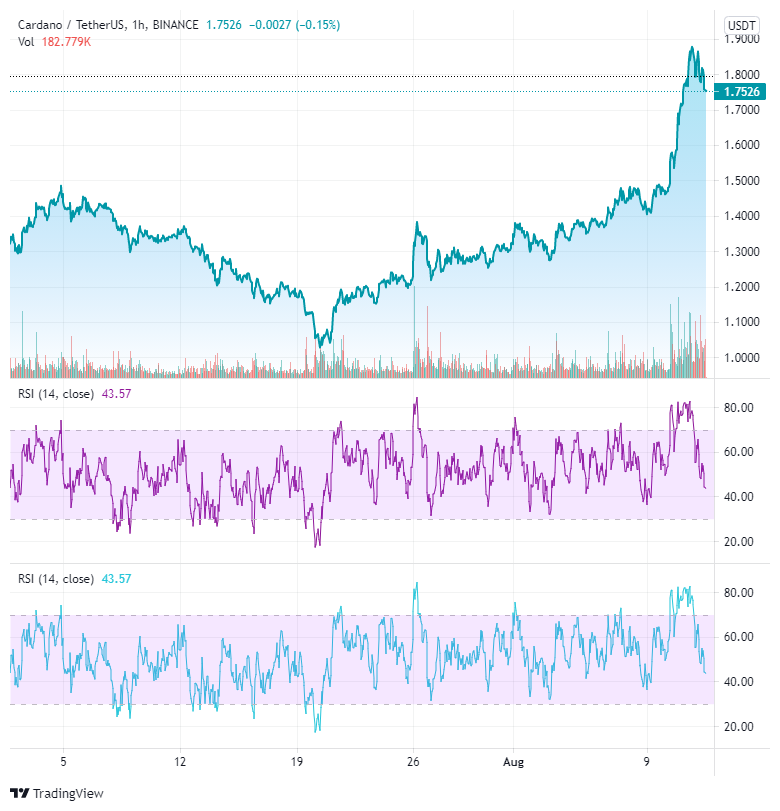 New upgrade for Cardano
A major reason for the ongoing upsurge of ADA is the announcement that came from its creator on Wednesday. Charles Hoskinson clarifies that the anticipate update of ADA is surely on the way. He cleared the fuss about the cancellation of the upgrade and stated that the final release will be announced by him on Friday.
This update is known by the name of Alonzo hard fork, and this will allow users to run smart contracts on Cardano. It will make the network more innovative and advanced to compete at the highest level. This is the final upgrade of the multi stage process for Cardano, and it is set to expand the network's horizon by an imminent margin. Smart contracts in DeFi helps two parties to agree on certain conditions beforehand, that are automatically fulfilled when the time arrives. Thus, it ensures more credibility and sustainability of a network.