The cryptocurrency market has shown major signs of progression in the last couple of weeks. The bullish trend has continued to persist despite phases of correction in the market. The momentum is fueled by the major upscaling of Bitcoin and Ethereum, who are regaining their lost glory after staying bearish for almost three months.
This upsurge in worth is not only experienced by the top tier cryptocurrencies, as several other projects have made their marks as well. ADA, XRP, DOT, WINK, and now SOL have also benefited from the positive market outlook. A range of altcoins are marching towards their all-time highs. The market positivity can be determined from the fact that the cryptocurrency market has rallied to the $2 trillion mark after almost three months.
Solana hitting all-time high at $64
Solana (SOL) has shocked the entire crypto community by making an upsurge of over 55% in the past one week. It hit an all-time high of over $64, and is currently trading at around the $63.50 mark. Not only this but SOL has also upgraded from being in the list of top 30 cryptocurrencies to storm into the list of top 10 cryptocurrencies, in terms of market capitalization. SOL is making its presence felt in the market, as its trading volume has also increased, and it has attracted more interest from the investing sector.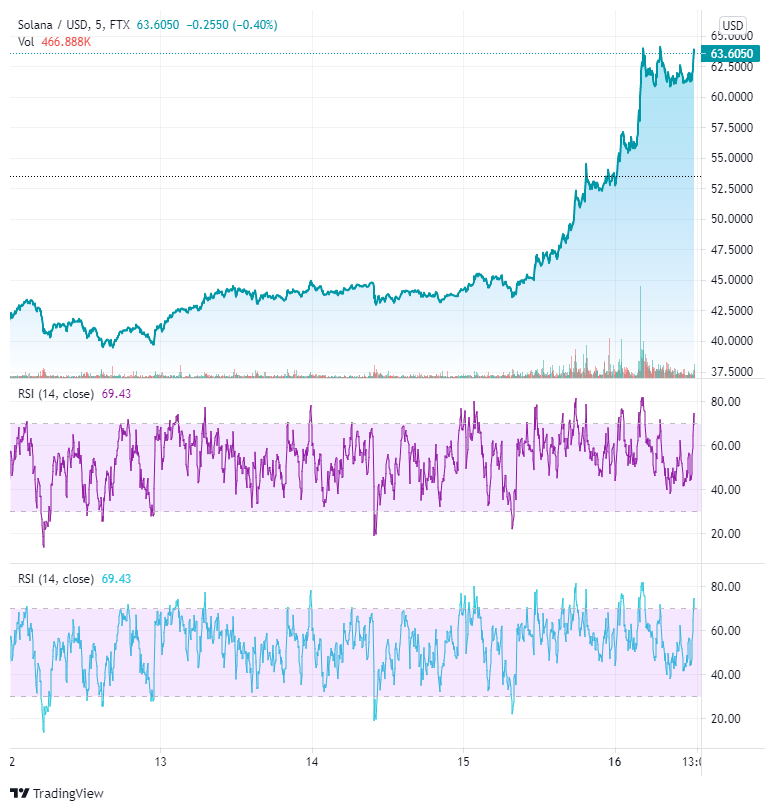 The major reason behind the upsurge of SOL was the start of an NFT art collection sale on Solanart. It is a marketplace on the Solana Network, and its direct connection with SOL ignited the progress of the crypto coin. The digital art collection was named 'The Degenerate Ape Academy', and about 10,000 of its 'smoothest brained apes' for sold in 8 minutes of its launch. Even for Solana's blockchain, this was too much to process, and the team of NFT art collection apologized to its clients for the overflow of transactions via twitter.
Solana is primarily advocated as the Ethereum killer. Its blockchain network can nearly support 50K transactions per second. The NFT art launch on Solana was significantly different from that of eny Ethereum network because it tried to keep the transaction fee as low as possible, while keeping the transaction process smooth. This is a major breakthrough for Solana's network, as it is providing an effective alternative to Ethereum's high gas fee for transactions. These progressions are rolling out in the favour of SOL, as it has been evident in the crypto market lately.