Decentralized finance is expanding quickly, with over $70 billion in total value locked (TVL) as of today, a 6000 percent rise from just two years ago, according to Defillama.com. As it does, so do the hazards that come along with it.
While there have been numerous recent hacks and exploits of smart contracts, traditional insurers typically lack the historical data and technological know-how necessary to underwrite insurance connected to smart contracts adequately.
Additionally, the absence of regulated insurance has prevented Defi from attaining widespread acceptance, as asset managers continue to look for reliable solutions to protect the expanding amount of their portfolios dedicated to cryptocurrencies.
Chainproof Creates a Regulated Smart Contract Insurance
In response to these worries, Chainproof has become the first regulated smart contract insurance provider in the world, bridging the exposed gap between traditional insurance and decentralised finance (DeFi), according to a PR Newswire report.
The idea behind this came from Quantstamp, a blockchain security auditor that has since managed the risk involved with more than US$200 billion in digital assets. For open-source custodial smart contracts on public, decentralised blockchains, it intends to provide licenced, institutional-grade insurance coverage.
Quantstamp and Chainproof will offer the specialised risk assessment skills required to successfully traverse the developing Defi insurance market.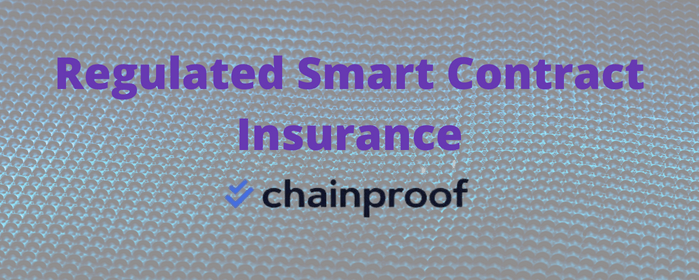 With Chainproof's debut, asset managers will have a solid option to safeguard the cryptocurrency holdings in their portfolios. Global giants in the insurance sector have backed it, with Munich Re providing reinsurance support and SOMPO Light Vortex providing startup funding
SOMPO Light Vortex CEO Koichi Narasaki stated that his company is honoured to be a founding partner of Chainproof as the company represents the cutting-edge regulated insurance solutions for the ground-breaking Web3 industry.
Quantstamp and Chainproof, according to Andre Knoerchen, head of new tech underwriting at Munich Re, offer the specialised risk assessment skills required to negotiate the nascent Defi insurance market.
"Institutional investors will be further enabled to succeed in the Defi sector if they are covered by regulated insurance, which we support through reinsurance," Andre Knoerchen concluded.
Sebastian Banescu, CEO of Chainproof, also commented on the agreement and expressed his company's gratitude for the support of such esteemed partners in the traditional insurance sector as SOMPO and Munich Re.
"Given the fact that there is no such thing as a 100% secure smart contract system, we see the product offered by Chainproof as a must-have for institutional investors who want to navigate the Defi space safely," he concluded.
Chainproof is also stated as having the support of Compound, Aave, Lido, Synthetix, Kyber, Amber Group, MakerDAO, Badger, Defi Alliance, The Graph, Coinlist, Zynga, Illuvium, Hashgraph, Rally, Celo, Polygon, Blockfolio, and Dapper Labs.