The International Monetary Fund (IMF) in a recent report considers Decentralized Finance (DeFI) a risk to global financial stability, especially as it continues to grow wider, together with the traditional financial institutions.
This concern was outlined in the latest Global Financial Stability report published to raise awareness of the risks associated with the DeFi markets and how it affects financial stability. This risk, according to the report, was imposed on the global economy by the ongoing conflict in Ukraine, and also devotes attention to sovereign-bank nexus in emerging markets and risky business segments in fintech.
The institution states while admitting that fintech can increase efficiency and widen access to financial services, that inadequate regulation and interconnectedness of Defi with the traditional financial system, can have grievous financial stability implications.
However, IMF calls for the need for effective regulations of the Defi space, with the major focus on stablecoin issuers and centralized exchanges, together with the worry that the unregulated DeFi landscape poses the world market, liquidity, and cyber risks.
The institution, however, admits to the fact that decentralized finance (DeFi) has had extraordinary growth in the past two years, while potentially offering higher efficiency and investment opportunities for all. Regardless of the opportunities that might be associated with the cryptocurrency and Defi space, there are also risks available.
 It maintains that;
"The absence of centralized entities governing DeFi is a challenge for effective regulation and supervision. Regulation should focus on elements of the crypto ecosystem that enable DeFi, such as stablecoin issuers and centralized exchanges"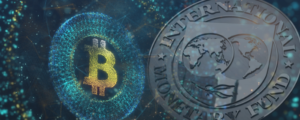 "While its market size is still relatively small, unregulated DeFi poses market, liquidity, and cyber risks, against a backdrop of legal uncertainties," the organization further noted.
Stablecoins as a treat to the Economy
Stablecoins that are pegged to national currencies (US dollar specifically) have been the subject of several discussions and controversies by the lawmakers of the US Congress especially. Although they are not yet subject to consistent regulatory safeguards, they are believed to pose an elevated risk to consumers and serve as a huge threat to the stability of the financial system.
IMF further purges regulators and lawmakers to draw their attention to stablecoins and centralized exchanges to exact some sort of control over the "unregulated" space.
In the report, IMF, therefore, made a suggestion to the authorities to:
"Encourage DeFi platforms to be subject to robust governance schemes including industry codes and self-regulatory organizations. These entities could provide effective conduct for regulatory oversight."