As worries about Tether's USDT's authenticity and reserves grow, Coinbase, one of the world's leading cryptocurrency exchanges, has advised its customers to change to its stablecoin, USDC, calling it one of the most trusted and reputable digital dollars.
As a result, Coinbase is waiving conversion fees for users who want to switch to the "trusted stablecoin" as part of a new campaign highlighting the quality of reserves backing Circle-owned USD Coin (USDC).
Switch to a trusted stablecoin: USD Coin (USDC). Now convert Tether (USDT) to USDC with zero fees.https://t.co/OObSqNWdpj

— Coinbase (@coinbase) December 8, 2022
The company claimed in an official post on December 8 that fiat-backed stablecoins, give customers stability and confidence during volatile times.
"The events of the past few weeks have put some stablecoins to the test, and we've seen a flight to safety," Coinbase affirmed. "We believe that USD Coin (USDC) is a trusted and reputable stablecoin, so we're making it more frictionless to switch."
Coinbase also stresses that one of the top audit, tax, and advisory firms in the US, Grant Thornton LLP, offers monthly attestations to demonstrate USDC's transparency. According to the exchange, USDC is always convertible into dollars at a 1:1 ratio.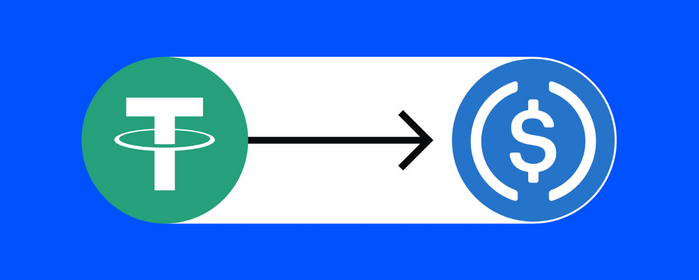 Coinbase Followed Binance's Lead
However, this Coinbase's decision shouldn't be interpreted as a purely charitable one that aims to shield its users from the alleged risks associated with stablecoins.
The American exchange is imitating its rival Binance exchange, which in September added an automatic conversion feature from USDC to BUSD to support its own stablecoin. Since then, BUSD's market share of stablecoins has significantly increased.
Furthermore, rumours and speculations about insufficient USDT coverage are not new in the cryptocurrency space. The media are also actively criticizing the biggest stablecoin in the world, citing, among other things, high lending risks.
However, Tether has survived every attack and every bear market, and it remains the oldest stablecoin, the most traded stablecoin, and the one with the highest market share at this time.
Tether's USDT has a market cap of $65.7 billion and a 24-hour trading volume of more than $26 billion, according to data from Coinmarketcap. Contrarily, USDC has a market cap of $42.7 billion and a 24-hour trading volume of just over $2 billion.