Coinbase, one of the leading cryptocurrency exchanges, has launched perpetual futures contracts for two popular altcoins, Solana (SOL) and Avalanche (AVAX). The new products will be available on Coinbase International Exchange and Coinbase Advanced, starting from November 14, subject to favorable liquidity conditions.
@CoinbaseIntExch will add support for Solana and Avalanche perpetual futures contracts on Coinbase International Exchange & Coinbase Advanced. The opening of our SOL-PERP and AVAX-PERP markets will begin on or around 4pm UTC on 14 November 2023, if liquidity conditions are met. pic.twitter.com/D2QTV9k9Qe

— Coinbase International Exchange 🛡️ (@CoinbaseIntExch) November 12, 2023
Perpetual futures are a type of derivative contract that allows traders to speculate on the price movements of an underlying asset without an expiry date. They offer advantages such as leverage, arbitrage, and hedging opportunities, but also entail risks such as liquidation and market volatility.
Coinbase Continues to Add More Altcoins To Its Platform
In October, Coinbase launched a new feature: perpetual futures trading. This service initially provided contracts for four major cryptocurrencies: Bitcoin (BTC), Ethereum (ETH), Litecoin (LTC), and XRP. The settlement for these contracts is carried out using the USD Coin (USDC) stablecoin. The exchange received regulatory approval from the Bermuda Monetary Authority in September to offer perpetual futures to customers outside the US.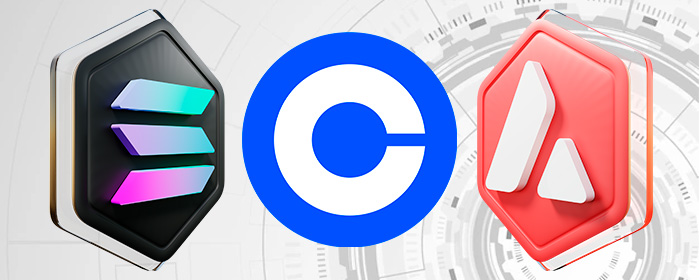 The addition of SOL and AVAX to Coinbase's futures platform comes when both altcoins have been performing strongly in the market. Solana (SOL) had a mixed week and trades at around $55 as of press time. 
The blockchain platform is gaining recognition due to its scalability, minimal fees, and swift transactions. It's also noted for its expanding ecosystem that includes decentralized applications (dApps), non-fungible tokens (NFTs), and decentralized finance (DeFi) protocols.
Avalanche (AVAX) has also been having a mixed week and it's trading at $17,50. The platform enables interoperability and scalability for dApps, NFTs, and DeFi across multiple blockchains. It also features a unique consensus mechanism that claims to achieve high throughput and security.
Coinbase said in its exchange notes: "Coinbase complies with local regulations around crypto derivatives, thus perpetual futures trading on our Advanced Trading platform is only available to users in specific non-US regions". The exchange also advised users to exercise caution and do their own research before trading futures, as they involve high risk and complexity.