The cryptocurrency market has once again taken a massive blow, as many tokens are dipping in red. A few factors can be linked to the new market bottleneck. The stock markets also witnessed a decline after it was decided that interest rates would be raised again to meet the specified target. The FED has continuously hiked rates for over a year in hopes of effectively battling rising inflation.
Currently, the masses believe that the interest rate will be increased by another 25 basis points. Plus, the UK consumer-price data revealed that inflation was well over 10% in March. Thus, central banks will have to continue their measures to deal with inflation. 
The market strategist, Joel Kruger stated,
"There have been some signs the Fed could be more aggressive towards higher interest rate policy than what the market is pricing, which has been driving yield differentials in the U.S. dollar's favor, while weighing on sentiment."
At the same time, a number of analysts in the cryptocurrency market believe that inflation data had nothing to do with the decline in process, but was solely the work of whales. Just recently, a whale sold approximately 16,000 BTC which could have been a major source of triggering the decline.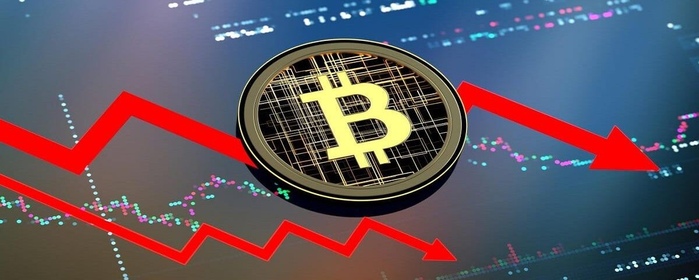 Bitcoin and Altcoins Suffer in the Broader Cryptocurrencies Market
Cryptocurrencies were already subject to uncertainty amid the troubling US banking sector. However, the recent chain of events has rattled the entire market once again. Some of the major cryptocurrencies to be drastically affected have been mentioned below.
Bitcoin (BTC): Bitcoin (BTC) just crossed the $30K mark not too long ago, indicating bullish sentiment. However, the situation has changed currently, as Bitcoin (BTC) has declined by 1.51% in the previous 24 hours and is currently trading for $28,820. At the same time, the total market cap of the token is almost $558 billion.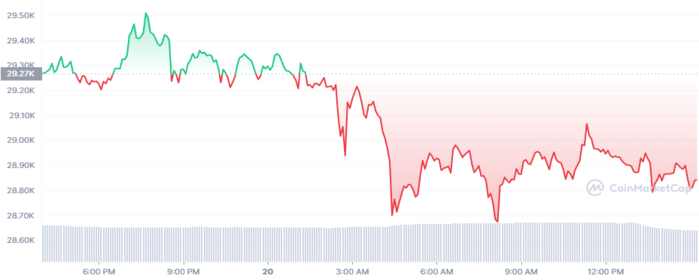 Ethereum (ETH): made a surprising recovery following the launch of its Shapella upgrade. However, just like other cryptocurrencies, it fell victim to the recent market turbulence. As of now, the token is trading for almost $1,957 after suffering a decline of 1.27% on the last 24 hours. The total market cap of ETH is currently $235 billion.
Solana (SOL): made an impressive recovery following the official announcement of its Saga crypto-ready phone. However, the token was no exception to the increased sell-off pressure. At the time of writing, SOL has dipped by 2.78% on the last 24 hours, and is currently trading for $22.51.
Polygon (MATIC): has dipped by 2.30% since the previous day, which pushed the trading price down to $1.09. The total market cap of the token is currently $10 billion.
Arbitrum (ARB): One of the most talked about tokens after its recent launch, ARB fell by over 4.60% on the last day. It currently trades at $1.49 with a market cap of $1.898 billion.