The Cardano-backed stablecoin, DJED, was recently launched in the market. Within a short time period, it accumulated a backing ratio of 600% from ADA. DJED swiftly attracted approximately 27M ADA coins as reserves within 24 hours of its launch. It is fairly easy to say that each independent DJED coin is backed by ADA, which is six times its value. The ADA locked for the issuance of the stablecoin has gone past the figure of $10 million. DJED is a highly anticipated and hyped stablecoin that has been developed by the joint effort of the Cardano code maintainer and Coti, a layer-1 blockchain.
With the launch of the Djed stablecoin, the price of ADA has seen an impressive shift. The excitement of stablecoin previously boosted the price of the cryptocurrency. Usually, certain projects usually influence the price of the related crypto considerably. A similar case happened in the case of ADA as well. The launch of stablecoin pushed the price of the coin up by 2.04% as of today. Similarly, ADA traded strongly since last week as it witnessed an increase of an impressive 6.52%. At the time of writing, ADA is trading for approximately $0.3824.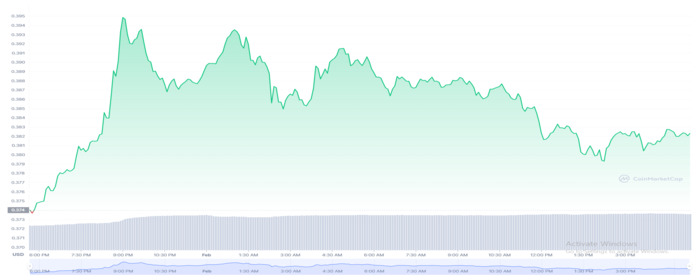 DJED has a Solid Start for a Stablecoin
As per plan, DJED needs to be backed up by other coins and require collateral between 400% and 800%. This collateral value would be deemed necessary to post before being issued to the user. To no surprise, this overcollateralized system would likely favor DJED in the long run. The value of the stablecoin would inevitably remain stable during stressful market situations. Keeping this in mind, a similar disaster like the TerraUSD would be entirely avoided. However, for this to work, everything has to go according to DJED's plan.
SHEN is the reserve coin that serves its purpose of supporting the stability of the stablecoin. The coin would be susceptible to receiving additional rewards due to Cardano (ADA) holders staking their coins to mint the DJED stablecoin. Inevitably, such an act might inject liquidity into the upstart ecosystem. These acts might boost the demand for SHEN.
Similarly, a great price surge could also be expected for Cardano (ADA) within the upcoming weeks as DJED is integrated with more Cardano-based applications, increasing its utility. DJED currently has a supply of approximately 17 million coins, while SHEN has a supply of 20 million. The DJED coin are expected to attract additional liquidity and interest from investors any time soon. It might act as a catalyst and imminently benefit Cardano's DeFi market.