The FED has once again dropped a hammer on financial markets by increasing interest rates by 25 basis points. However, despite the increase being put into effect, Bitcoin (BTC) and other cryptocurrencies have managed to hold their ground. It is mainly because the recent FED move aligned itself with the expectations of the market and made the rate jump from 4.5% to 4.75%. The percentage can now be seen at the highest ever mark in decades.
Since last year, the FED has been jacking up the interest rates to combat inflation. But the move continued to disrupt the prices of stocks, equities, and crypto assets. The largest cryptocurrency token, Bitcoin (BTC) is significantly down from its all-time high of $69K due to FED's moves. However, this time around Bitcoin (BTC) has shown little to no adverse effects of the increase.
At the time of writing, BTC is trading for $23,808. The trading price marks an increase of an impressive 3.51% since the previous 24 hours. The coin has displayed outstanding performance since the start of this year. Apart from BTC, other coins such as ETH, BNB, and ADA have shown significant progress. Ethereum (ETH) saw a staggering increase of 6.02% in the last 24 hours, and it is currently trading for approximately $1,688.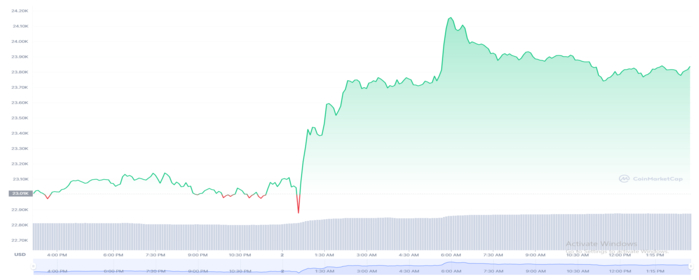 Bitcoin (BTC) and Federal Reserve – Explained
Bitcoin (BTC) has been correlated with the stock market, mainly because it is a risk-on asset. This suggests that prices can be highly volatile, similar to that in the case of equities. Investors have resorted to selling these risk-on-assets as the FED has increased interest rates to tame the 40-year high inflation rate.
Similarly, whenever interest rates achieve new heights, investors begin to show the tendency to prefer safe havens, for example gold. The FED has clearly mentioned that it would continue increasing interest rates throughout this year. However, it is expected that these upcoming rate hikes may not be as aggressive as the ones throughout 2022. Currently, the FED believes that the ongoing increases within the target range are of utmost necessity. This comes from the requirement of achieving a stance of monetary policy to return inflation to 2% over time.
Despite the inflation rates still touching new heights, there is still a long way to go before the job could be completed. As long as Bitcoin (BTC) is concerned, experts believe that the coin might experience a downfall any time soon. However, in comparison to the previous effects, the upcoming one might not be as severe. Yet, BTC and the overall market are showing strong positive momentum now which is a good sign for the market's long-term prospects.