As per recent developments, Dogecoin (DOGE) holders have attached their hopes with Twitter's anticipated payment update. The soon-to-be-implemented payments service would not only support fiat currencies but it is expected that it would support crypto anytime in the future. As of now, Twitter continues to dig deeper into the payments space. As a result of the update, DOGE experienced modest gains. The token hit the $0.09 mark shortly after, but the pump was not strong enough to last long. The memecoin continued to fluctuate between $0.08 and $0.09 mark.
Dogecoin (DOGE) continues to be impacted by the actions of Elon Musk aka the Dogefather. The price shoots up the moment Musk finds success, just like his Twitter acquisition deal. On the other hand, the coin is adversely affected whenever he's put in challenging times. The correlation between Dogecoin (DOGE) and Musk hits crypto market headlines every now and then. 
Despite the current uncertain scenario, Dogecoin (DOGE) holders are hopeful that the upcoming chapters might unfold in their favor. At the time of writing, Dogecoin (DOGE) is trading for almost $0.0905. The token has displayed an impressive increase in the previous 24 hours when the overall market has traded in red. DOGE currently has a total market cap of approximately $12 billion.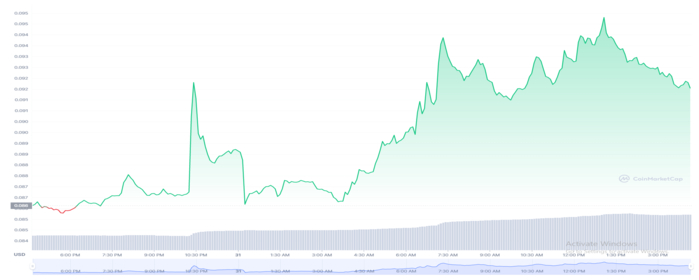 The Elon Musk Effect on Dogecoin (DOGE)in a Nutshell
Since Musk took over Twitter last year, he has been actively exploring different ways to monetize Twitter as a social payments platform. In November, Twitter registered as a payments business and is developing the Coins feature. This feature would enable users to pay with fiat and receive rewards in return.
It is important to note that Twitter is no stranger to the concept of crypto. Despite the crypto engineering team walking out throughout November, Twitter still offers a few benefits. Under the Twitter Blue Subscription, users are offered NFT verification. Apart from that, users can also tip selective creators with Bitcoin payments via Strike. Moreover, Twitter has something else in store for a fraction of users as well. Eligible users with enabled monetization can display their ETH and BTC wallet addresses to receive tips.
The recently leaked images of the payments project in January did not mention anything about crypto or blockchain technology. The hopeful DOGE community was left confused. Previously, several unconfirmed rumors also emerged in October, suggesting that Twitter indulged in actively developing a wallet prototype. Once implemented, the wallet would enable users to support crypto withdrawals and deposits.