It finally happened. Elon Musk has once again been the force that moves Bitcoin prices. And it is through Tesla. In the last few hours, Musk has confirmed that Tesla is now accepting Bitcoin as a form of payment. This is big news and a fulfilment of a promise made by the world's richest man.
Earlier in the year, while announcing the purchase of $1.5 billion worth of Bitcoin by Tesla, it was made public that soon Tesla would begin accepting Bitcoin for the purchase of their vehicles. Unlike most institutions whose intent to implement such radical developments takes months, Tesla has been swift. On Wednesday Elon took to Twitter to confirm that his company was now accepting Bitcoin in the US. He went on to add that it would be available to the rest of the world later in the year.
In an aim to grow its Bitcoin holdings, Tesla will not be converting the Bitcoin payment into cash. Instead, this will be added to its reserve. The electric automobile company will be running its internal & open source software & operate Bitcoin nodes directly. In terms of institutions holding Bitcoin, this is a big win. The Bitcoin received will be held for the long term, keeping supply low and ensuring prices remain high.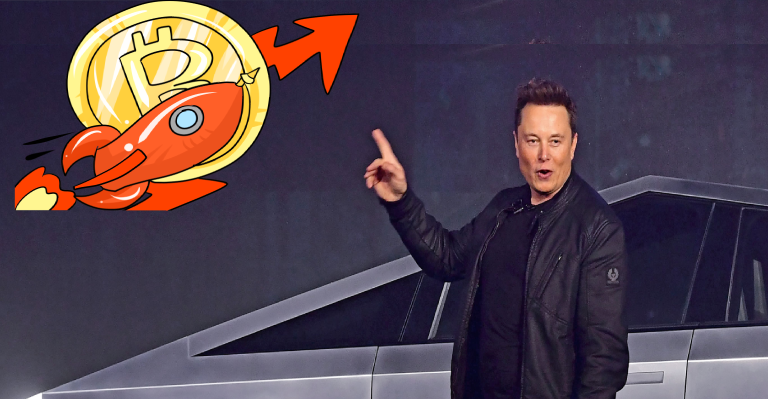 The year has so far seen Elon Musk and his company Tesla become major players in the crypto community. Earlier, Tesla bought $1.5 billion worth of Bitcoin to add to its balance sheet. This not only had a major effect on prices but effectively triggered institutional demand that has greatly weighed on Bitcoin's price and influence in the world.
Tesla Offers Bitcoin A Lifeline
Since the news broke, Bitcoin has been in the green zone. At the time of press, the digital asset has added over 5% and climbed to $57K. This is an impressive rebound after a weak start to the week. On Tuesday, Bitcoin slipped below $55K to reach a low of $52K. As we reported, this had a harsh consequence with over $1.5 billion liquidated in the space of 24 hours. The recent news is a big development for Bitcoin that offers it a lifeline to ride on in the next few days.
Since making a turnaround, the digital asset is set to retest $60K. The asset is still struggling to sustain profits above this but the Tesla development will be ideal to propel it above and potentially set higher resistance and support above.