On Tuesday, over $1.5 billion was liquidated following a Bitcoin slump. Bitcoin volatility has proven costly. At the start of the week lost over 5% of its value to drop below $54K. Consequently, over 250,000 traders were liquidated, accounting for over $1.62 billion. The drop came amidst a waning by Federal Reserve Chair Jerome Powell telling investors they should be wary of the digital asset's volatile aspect.
Bitcoin set a new high of $61K a few days ago but was unable to set support above $60K. Above $55K, many in the community were expecting a return above $60K in the short term, explaining the amount bet on longs. In a surprising move, Bitcoin on Tuesday wiped out 5% of its value slipping as far as $53K. Data shows that following the slump, over $1.62 billion was wiped out in liquidations. The single largest liquidation was $10.2 million on Huobi-BTC.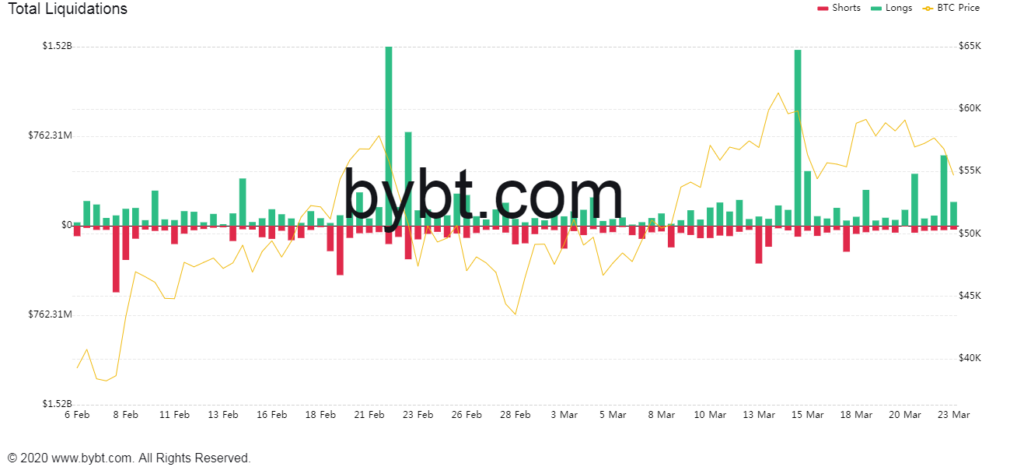 The drop could be a consequence of a change in wealth transfer. On Monday, Glassnode revealed that there is a Bitcoin transfer from whales to retail traders, signalling an end to the bull cycle. If so, the $61K high could be the short term top and the market faces one of two historic scenarios. As seen when Bitcoin was struggling with $10K last year, this was a position that was evasive but feasible. The token struggled but the breakout was tipped to be psychological and would send the digital asset to new highs. On the other hand, when Bitcoin reached $20K and began retracing, this became one of the longest bear trends, lasting three years. During this time, the digital asset wiped as much as 80% of its value. For now, bulls will fight to take Bitcoin back above $60K and set support above this.
Powell Warns About Bitcoin Volatility
Just hours before the drop, Federal Reserve Chair Jerome Powell commented about Bitcoin. Powell accused Bitcoin of failing as a store of value because of its volatility. But on a positive note, he further compared the largest cryptocurrency to gold.
"They're more of an asset for speculation. So they're also not particularly in use as a means of payment. … It's essentially a substitute for gold rather than for the dollar."
Though he echoed many analysts point that Bitcoin is a substitute for gold and will in future surpass it, his volatility claim was damning. Having grown from an average price of $7,000 in 2020 to over $55,000, the chair conveniently left out how well the asset has performed as a hedge against inflation.