Bitcoin and Ethereum are unarguably the biggest names in the cryptocurrency market. Over the years, they have helped in raising awareness and popularity of digital and virtual currencies in the public. This is why now more and more organizations and firms are eyeing crypto as an effective payment, transaction, and investment mechanism. The public sector is also getting more and more invested in the thriving market.
However, the volatile crypto market also triggers major price fluctuations with time. This is one unique aspect of the crypto market that sets it apart from the traditional financial sector. Most recently, the cryptocurrency market went through a major price dip. Everyone was expecting the prices to go higher but the market had other plans. Several tokens, including Bitcoin and Ethereum, suffered a setback in prices. Upon recovery, Ethereum has stayed a step ahead of Bitcoin which has made headlines for the leading altcoin.
Ethereum is standing out from the rest
Bitcoin and altcoins continue to struggle in an indecisive and highly unstable market. Therefore, they have been struggling to recover from recent losses. However, things are different for Ethereum, the second-largest crypto in terms of market cap. ETH did hit a low of $3,400 over the weekend but it is still holding firmly against Bitcoin. Ether is currently valued at a little below $4,200. The chart of the coin shows a promising outlook for the future growth of the token.
On the other hand, the Bitcoin pair of Ethereum is also performing exceptionally well. The ETH/BTC pair has reached a three-year high which is a major positive for the token. ETH touched 0.857 BTC which was its highest position since May 2018. It is still trading over the 0.850 BTC mark. The coin successfully recovers from the losses of December 4 to touch new highs.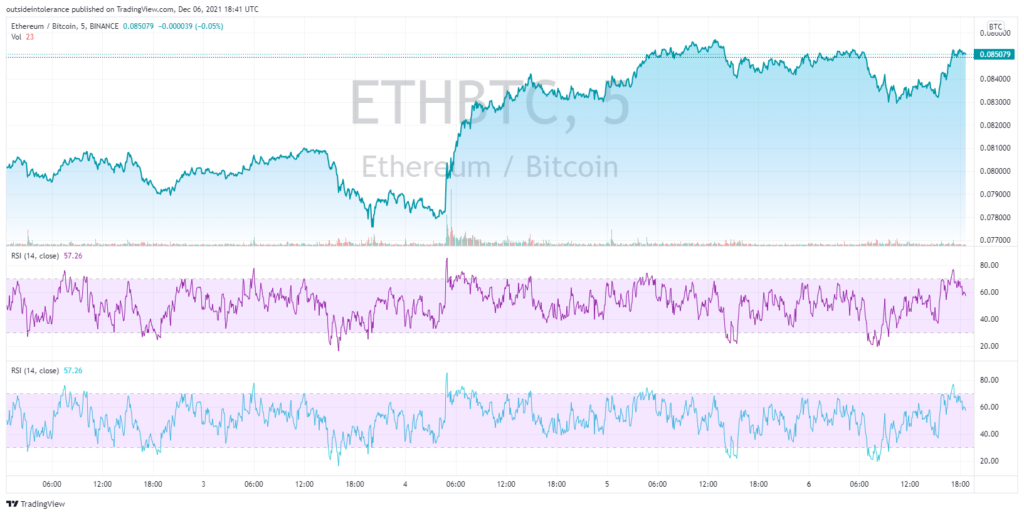 Experts and analysts were quite shocked at the exceptional performance of Ethereum, as it was the best one against Bitcoin in almost 4 years. They expected that the bulls might have a little momentum left for an extended run of ETH. However, even though ETH is showing strength past the $4,000 mark, it might still grow weaker in front of the $4,300 resistance level. However, if Ethereum manages to cross that point, it might aim for new all-time highs sooner than expected. Nonetheless, Ethereum has to stay above $4,000 at all costs for this bull run to be validated.