DNP3, the creator of Goobers NFT and a Twitch streamer, has stated on Twitter that he lost his life savings and customer investments to gambling due to what he called a "gambling addiction."
He confessed that during the last year, he developed a severe gambling habit and stated that he had bet every penny he could find in the expectation of striking it rich at the casino. Even when the huge wins did occur, he said, "it wasn't enough."
I'm sorry.

Read: https://t.co/RKM1wYggnC

— DNP3 (@DNPthree) January 3, 2023
However, DNP3 said that he ultimately lost everything and that he had irresponsibly used investor money to try to "get his money back" from the casino, which he later realized was wrong for a variety of reasons.
Broke DNP3 Seeks a Recovery Path
"I am now completely broke, both financially and spiritually," he said. "My sense of trust in myself is compromised."
In his letter of apology, he noted that he was working with a support group to go on the path to recovery and that his goal is to "break free" from the perilous world of gambling.
DNP3 is the creator of the NFT project Goobers, which debuted in September 2021 and has since acquired a total trading volume of 968 ETH. The project's floor price peaked on February 20, 2022, at 55.25 ETH.
The NFTs' floor price is around 0.016 ETH at press time and has declined by 20% in the last 24 hours on CoinGekco after the gambling news broke.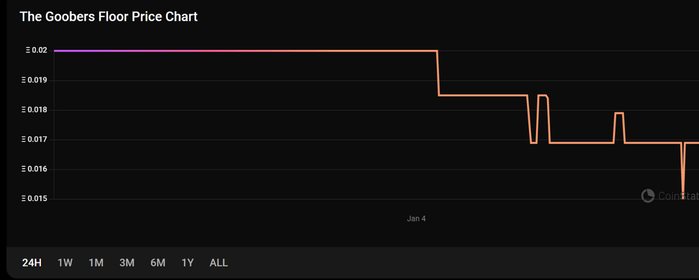 The now-bankrupt streamer, who some Twitter users have recognized as Austin Taylor, is also the founder of Gridcraft Network, a play-to-earn web3 game, and the charity-focused cryptocurrency CluCoin. The charity token has fallen by over 72% in the last 24 hours.
He streams on the live streaming platform Twitch to more than 251,000 followers and is well known for his usual giveaways of PCs and other things. 
In reaction to the public apology, crypto enthusiast and presenter of Crypto & Coffee's cryptocurrency weekly podcast Jess commented, "Not another I'm sorry," a sentiment shared by many people as FTX creator Sam Bankman-Fried (SBF) began a series of apologies following the collapse of the FTX exchange.
Another user, "PerkyPerk," has urged everyone who has lost money as a result of DNP3's actions to submit a complaint or report to the American SEC and the FBI, stating that,
"sorry is not going to cut it!"
However, the extent of the financial losses is still unknown, but various sources estimate them to be in the millions of dollars.