Hyundai, a South Korean multinational automotive manufacturer announced that it has partnered with a non-fungible tokens (NFTs) project, "Meta Kongz" to create what they call "Hyundai Metabolity Universe."
Among all other automakers, Hyundai Motor is the first to venture into the NFT space with its own NFT community, including the Hyundai NFT official website, Twitter handle, and Discord server created. Its Twitter and Discord channels were opened on April 15, while the official website is scheduled to open in May 2022 when the project will be launched.
The Company made this announcement on Monday through its new Twitter handle, @Hyundai_NFT created to communicate its NFTs-related announcements. The post includes an animated video showing a Meta Kongz NFT riding in a 1975 Hyundai PONY vehicle through space.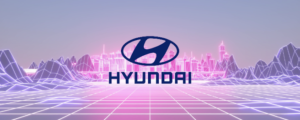 Hyundai Metamobility Universe to expand access to ultimate freedom of mobility
The company has once announced its concept and vision for Metamobility, which it believes will expand human reach to access ultimate freedom of mobility. However, this vision is aimed to be brought to life through the "Hyundai Metamobility Universe."
Meta Kongz, an NFT project that aims to create a multi-universe that combines various worldviews through NFT, also made this collaboration announcement through its Twitter handle a few hours after Hyundai made its own.
[Hyundai X Meta Kongz 협업 콜라보 이벤트]
❗️Meta Kongz 홀더 대상 판매❗️

Hyundai X Meta Kongz 특별판 NFT 30개를 제작 및 판매하는 데 있어 특별판 NFT중 10개를 메타콩즈 10개 이상 홀더는 1ETH에 구매 하실 수 있습니다.

— MetaKongz (@meta_kongz) April 18, 2022
The official NFT launch will take place in May 2022, when Hyundai will issue various NFTs as innovative mobility vehicles to guide users through the Hyundai Metamobility Universe. On April 20, Hyundai will initially issue 30 limited editions of' Hyundai x Meta Kongz' NFTs to commemorate the official release of the film. The profits earned from the sale of Hyundai NFTs will be used for the project's management and community members, as maintained by the South Korean Carmaker.
Hyundai x Meta Kongz introduces Hyundai Metamobility universe.

Check out this aweeeesome creature's breathtaking adventure with Hyundai PONY.@Hyundai_Global @meta_kongz pic.twitter.com/w0iLPHxe5d

— Hyundai_NFT (@Hyundai_NFT) April 17, 2022
The Hyundai NFT Universe, according to Hyundai Motor, will expand the Hyundai brand experience in a completely new way, further confirming the company's dedication to innovation in both the real world and the metaverse; and this journey is being kicked off with Meta Kongz.
As part of this innovation, while inviting people to this exciting development, Hyundai stated on their official website:
"This world will be unlike anything you've encountered before, where mobility connects and revolves around you for new mobility experiences. We're inviting you as our first guests to this wondrous world full of imagination."
Many firms today, particularly large ones like Facebook, Microsoft, and Alibaba, are venturing into the field, mostly with the goal of letting people overcome physical restrictions of movement in time and place.