Who would have thought that we would be talking about a meme coin as a Bitcoin rival? Certainly not us! Dogecoin has shocked the whole crypto market through its recent developments, and mainly the upsurge of its value.
What started as a joke, has now shot up by a staggering 20,000% since the last year. Surprisingly, there is nothing stopping the 'shiba inu' coin, and it is still making its way on the top. The crypto king, 'Bitcoin' has experienced a mere 500% increase since last year. This is negligible as compared to the journey of Dogecoin.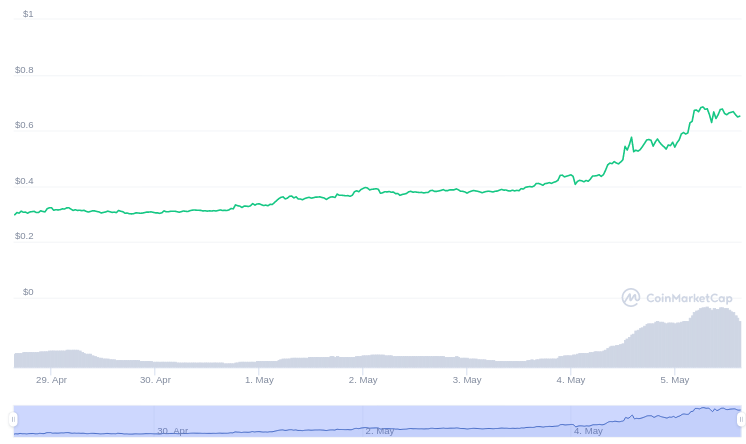 Elon Musk's SNL appearance
Dogecoin's price peaked at $0.69 this week. This was an extension of its surge of over 120% in the last week. One primary reason behind this major outgrowth is the anticipation build around the CEO of Tesla, Elon Musk. He has been a staunch supporter of Dogecoin for quite some time now. His repeated tweets in the favour of Dogecoin have boosted the value of the crypto token.
Now, Elon Musk is scheduled to appear at SNL on May 8 and is expected to mention Dogecoin once again. Many traders and investors are predicting for Doge to soar up once again, and breach the $1 mark.
In the recent past, crypto geeks and experts have always dismissed Dogecoin. They have termed it vague, irrelevant, and a bubble set to burst. However, Doge has defied all odds and has risen up the ranks. It has replaced Ripple to become the fourth highest cryptocurrency in terms of market cap. It is now only behind Bitcoin, Ethereum, and BNB. Moreover, Doge is set to achieve a huge market cap of $100 billion.
Many trading platforms and exchanges have now issued research supporting the argument that Dogecoin has strong fundamentals. The likes of Gemini and eToro have claimed that Doge is here to stay, and should not be taken lightly. The ever-growing community of Dogecoin is also a huge support to the crypto token. With the support from various YouTubers, rappers, and the very popular Elon Musk, Dogecoin can continue to surprise.
There is a significant risk associated with Dogecoin investments as well. As many spheres predict that this pump in value can just be a timely thing, and the prices may crash suddenly. Dogecoin is termed as a low-cost yet high-risk investment. The next week carries immense importance for the future of Dogecoin. It might outperform or crash owing to its volatility, but it is nonetheless an entertaining prospect in the crypto arena.