Cryptocurrencies are becoming a mainstream asset all over the world. Their popularity and relevance is increasing at a fast pace. Several organizations and firms are exploring the usage of crypto tokens, like Bitcoin and Ethereum. Together, the developing world and the first world are trying to take advantage of the emerging industry. However, the news coming in from India about a proposed crypto bill is causing a panic in the crypto market.
India was hosting regulatory discussions about the use of cryptocurrencies for a while now. Previously, PM Narendra Modi also commented on how states should keep a check on the use of crypto so it does not fall in the wrong hands. Also, he warned that crypto might spoil the youth.
In a recent development, the Parliament of India announced 26 new bills for the Winter Session. The list also included a bill related to cryptocurrencies. The bill was named Cryptocurrency and Regulation of Official Digital Currency Bill, 2021. The projected bill called for a legislative vote on creating an official digital currency while proposing a ban on all private cryptocurrencies from November 29.
As much as India is showing interest in the idea of digital currencies, its ban on all private cryptocurrencies came as a shock move for the crypto community. Many investors and traders were unsure about the future of crypto in the region. This triggered a panic in the market, individuals started to sell their assets. Several major exchanges experienced a massive sell off. The most prominent among these exchanges was WazirX. It led to a price drop in crypto tokens like BTC and ETH.
A mass sell-off leading to a market crash
India has one of the largest crypto markets in the world. With over 20 million crypto investors, India has a strong influence over the market. As soon as the news of the crypto bill hit the market, Bitcoin plunged below INR 3,917,659. Bitcoin fell for about 15% within two hours. In addition to this, Ethereum and Cardano also posted double digit losses on the local exchange.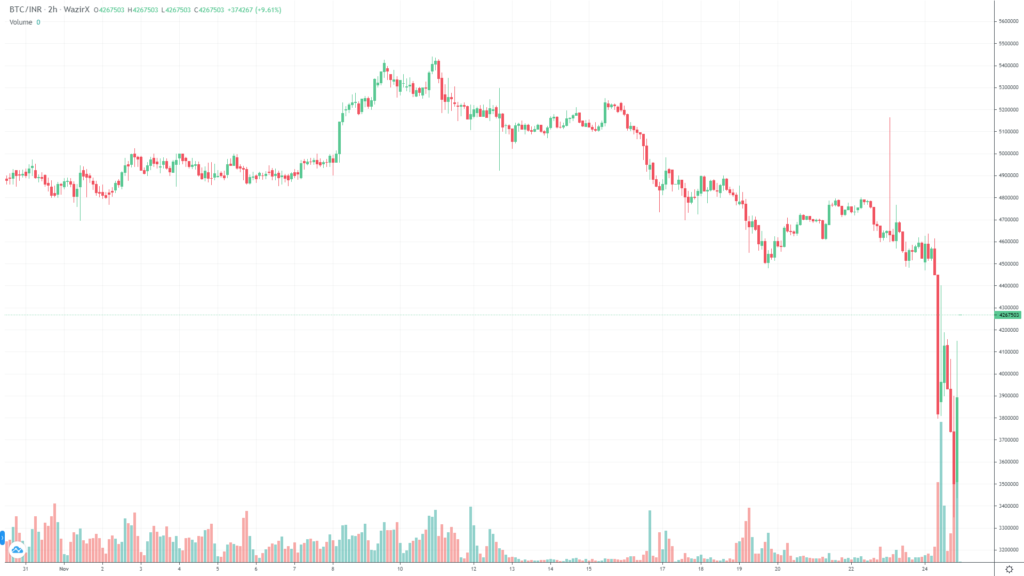 Bitcoin has, however, gained a bit of composure and stability after the scare from the announcement of India. It is currently valued over $56,500. However, many crypto experts in India believe that this bill would be a step back for the crypto industry in the country. Yet, they have advised people to not panic and hold on to their assets.