The metaverse is gaining popularity and recognition in the consumer market. It is evident that we are entering a new era of digitization with the expansion of this concept. This is primarily the reason that several networks and projects are revamping their models to fit in the concept of the metaverse.
Businesses are exploring new opportunities within the emerging concept. A similar initiative is taken by JP Morgan to join in on the metaverse-frenzy.
In a recent development, JP Morgan has launched his Onyx salon in Decentraland. JP Morgan is a renowned banking giant, and its new initiative with Decentraland carries a lot of weight in the metaverse and the blockchain world. This move indicates that institutional investors are now keen on pouring money into digital real estate. Decentraland has become a go-to metaverse ecosystem for such investment in recent times.
JP Morgan acknowledges the rise of the Metaverse
JP Morgan is the largest US Bank and it has also become the first lender in the Metaverse. Onyx salon will mark its entry into the Metaverse. The development was announced through a report by JP Morgan. The report explained the concept and logic of the metaverse and emphasized its importance and potential future.
JP Morgan explained that the metaverse offers extensive opportunities to transact, socialize, create, own, and experience. It also highlighted the importance of NFTs, virtual assets, products, and strategic partnerships that are leading to an immersive consumer experience. The bank's report gave an insight into the mainstream adoption of the metaverse in the field of electronics, fashion, entertainment, and real estate.
The Head of crypto and metaverse at JP Morgan, Christine Moy has said that
"There is a lot of client interest to learn more about the metaverse. We put together our white paper to help clients cut through the noise and highlight what the current reality is and what needs to be built next in technology, commercial infrastructure, privacy, and workforce to maximize the full potential of our lives in the metaverse."
The price of Decentraland rallies with the latest partnership
Decentraland's native token MANA has gained a lot of popularity with the rise of the metaverse. The price of the token experienced a massive surge lately. With the recent collaboration of Decentraland and JP Morgan, MANA has posted double-digit gains.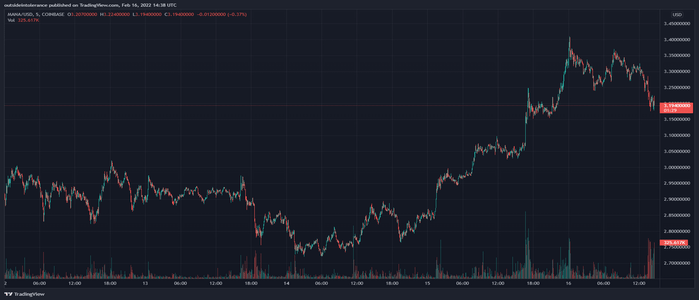 It has risen from the loss of the previous week. Moreover, the metaverse coin is predicted to be bullish by analysts after attracting institutional capital inflow. MANA is currently valued at around the $3.20 mark. The coin's uptrend is solid, and it can continue to climb in the longer run.