Ledger, a security-focused firm that develops cryptocurrency hardware wallets, has teamed with Tony Fadell–the designer behind Apple's iPod–to offer an easier, more accessible option for people to safeguard their crypto assets: the Ledger Stax.
The tech design guru, Tony Fadell — who earlier co-founded the Nest smart thermostat before it was bought by Google in 2014 — is the inventor and mastermind behind Ledger Stax, crafted by the LAYER studio, led by Benjamin Hubert.
The credit card-sized touchscreen device allows users to manage over 500 digital assets, together with the ability to hold NFT collections and integrate with several Web3 apps through the Ledger Live app.
Ledger Stax: the Cool, Beautiful, and Fun Crypto Wallet
"Ledger Stax™ is our new, breakthrough consumer device," Ledger says. "It is built on Ledger's secure architecture and introduces a unique form designed for unprecedented accessibility and interactivity with the world of cryptocurrencies and NFTs."
The Ledger Stax uses Bluetooth to connect to the Ledger Live Mobile app on smartphones, and secure USB-C to connect to the Ledger Live app on laptops, according to the December 6 release. It also supports Qi wireless charging.
Regarding the battery, the manufacturer guaranteed users they may use the Stax for several weeks or even months on a single full charge. It features a battery-efficient E Ink and a Kindle-like display that can display owners' NFTs even when the device is off.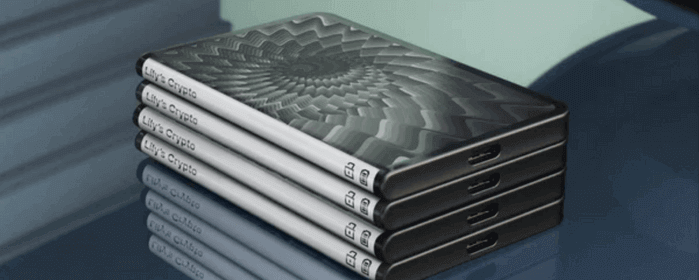 The curved E Ink spine shows what's inside, like a book on a shelf, Ledger stated. Also, the touch interface enables the Ledger developer community to create innovative Web3 apps that are more accessible and secure than before.
Ledger Stax also contains built-in magnets that make it simple to stack, especially for those who have over one device.
The eight-year-old company is a market leader in crypto security, having sold millions of devices to customers in over 200 countries. The firm's existing Nano series has sold 5 million units, and "none ever hacked," according to CEO Pascal Gauthier.
"Digging into Ledger's proven security technology and trying all the 'best' hardware wallets out there convinced me to build a next-gen device with Pascal, Ian, and the amazing Ledger team," says Tony Fadell.
Ledger Stax is not yet officially for sale, however, interested buyers can make reservations on Ledger's website. The new wallet will be available in March 2023, but interested buyers may pre-order one for $279.
The Apple of the Cryptoverse
Tony Fadell creates products with both the circuit board and the billboard in mind, said Ian Rogers, chief experience officer at Ledger.
His goal is to make the company the Apple of the cryptocurrency industry, with the new wallet serving as its "crypto iPod." Ian claimed that they have created a tool with the Ledger Stax that is cool, beautiful, and fun.