There are several cryptocurrencies that gain a lot of traction and attention from investors and traders. These tokens stay among the top-performing coins in terms of valuation, trading volume, and market capitalization. Polygon's MATIC is one such coin that has outperformed several big guns of the crypto market through its recent bull run.
The month of December has produced commendable results for MATIC, as it stayed the hottest digital asset on the market. With the progress of the token, the Polygon Network also attracted high activity with an increased number of active addresses. The number of these active addresses crossed 15,500 as the token reached new highs.
The network's activity directly correlates with the price of the token. Therefore, both of these values skyrocketed, as MATIC hit a new ATH of above $2.90. The coin was just shy of the anticipated $3 mark, but it has gained over 60% in the month of December. Investors and traders have accumulated high profits with the coin's growth. At the time of writing, MATIC is valued at around $2.66.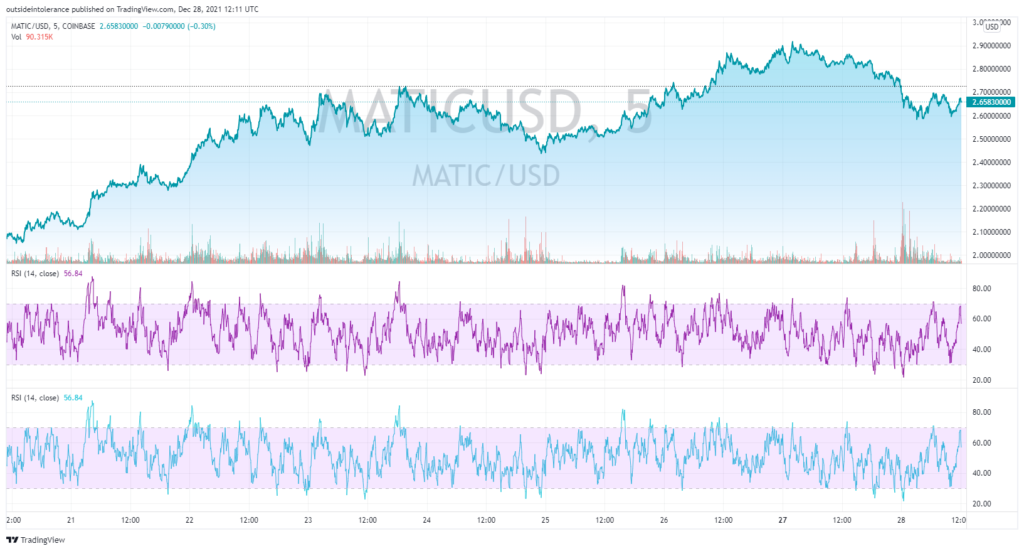 MATIC might retrace before another ATH
The last quarter of 2021 has recorded several bull runs. Digital coins like SOL, LUNA, and MATIC have driven the bullish price action of altcoins. Along with this, there has been a remarkable rise in price actions of layer-1 protocols. The new ATH of MATIC has fueled the narrative building around layer-1 protocols.
However, the rise in the value of MATIC was mainly because of the increased activity on its network. The late market movement did not support it. It has stayed among the top most active coins in the crypto market. Nonetheless, experts believe this can lead to a slight consolidation of the token in terms of value. It might retrace to around $2.50 before recording another bull run. The following price action might push MATIC's value beyond $3, which will also be its new all-time high.
The distribution of the coin's ownership indicates that whales and institutional investors are its most significant accumulators. An increase is recorded in large transactions as big market players took charge of the token's performance. Nonetheless, MATIC has remained a healthy stature in the market. Its price rise was independent of Bitcoin's performance that could be a good sign for the altcoin. As more capital inflow is expected in the Polygon network, MATIC can eye further gains in the coming year.