The cryptocurrency industry is a relatively new concept with a lot of room for development and upgrades. There are several cryptocurrency projects in the crypto space that compete to attract investors and consumers to their platform. Every project looks to be more accessible, usable, and feasible for the consumers. Therefore, they inculcate new and more innovative features to address different issues. Polygon has also followed the same pattern to address the scalability issue in its blockchain.
Several blockchains of the crypto world face scalability issues that compromise the usability of the network. In a recent development, Polygon has introduced a new scaling solution that goes by the name of Miden Virtual Machine. It intends to address the issue of network congestion on the Ethereum blockchain. Also, the new feature will allow the development of decentralized applications (dApps) on the layer two blockchain.
Polygon has based the scaling solution on Advanced zero-knowledge scalable transparent argument of knowledge (zk-STARK). It will help in overcoming the challenges of the Ethereum ecosystem. It is believed that the incorporation of this feature is significant for Polygon, as its roadmap intends to act against the scalability of ETH.
The use of zk-STARK by Polygon
This technology allows one network to prove to the other network that it holds private information. However, they do not have to reveal any detail about the said data. The Polygon network has committed more than $1 billion to develop the zk-STARK technology.
The technology can be highly useful for DeFi protocols that could redact sensitive information rather easily. Also, no special experts or cryptographers are required to run and manage this technology, making it more convenient for the networks.
The Miden Virtual Machine features will help the Polygon network to combat technical issues of the network and will allow it to rely on cryptographic proofs of computation integrity. The feature also introduces a couple of new features. The first one supports arbitrary transactions and the second feature issues proofs of transaction execution.
Price analysis of MATIC
MATIC is the native cryptocurrency network of the Polygon Network. However, the coin has decreased in terms of valuation in the recent correction phase of the market. The coin is currently valued at around the $1.5 mark, which is significantly lower than its high of over $2.15, a few weeks ago.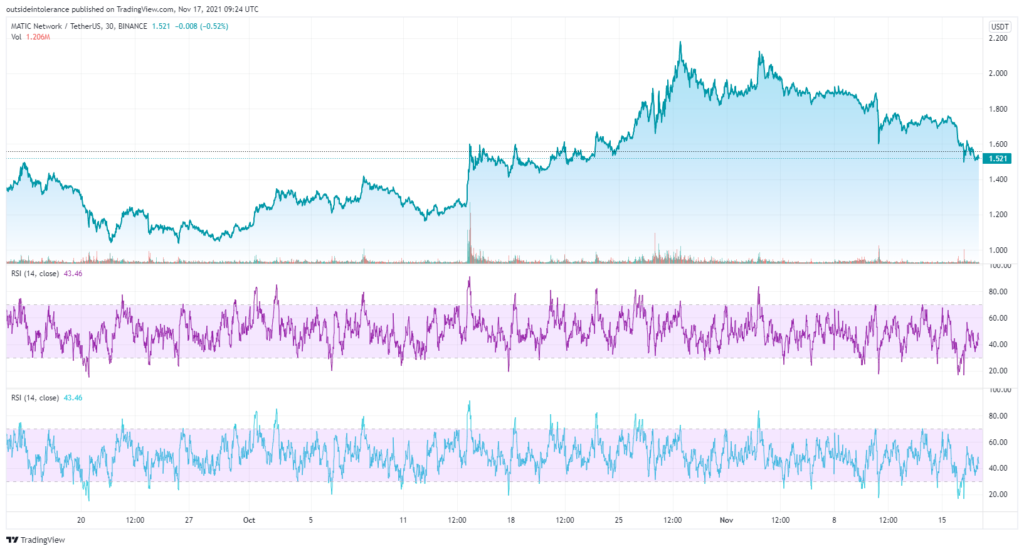 The token has to hold above the crucial level of $1.47 to avoid further losses and to turn bullish once the correction phase ends. The token also faces resistance at the $1.58 mark.