The cryptocurrency market continuously fluctuates, as volatility continues to trigger different patterns in the market. There are thousands of crypto tokens in the market. Some of them rank among the gainers and some top the chart of losers. However, they constantly shuffle and fluctuate in different market dynamics. Also, events and announcements have the capacity to influence the performance of a coin. Lately, a similar trend was observed in Litecoin.
Litecoin has experienced a major downfall in the last one or two days. The overall market is also going through a correction, so the prices are expected to go down. It is highly likely that Litecoin further goes down before scaling upwards again. However, investors are positive about the bull rally of the coin, as the buying pressure is also expected to increase soon.
Litecoin and Visa payments
Every crypto token tries to increase its adoption, in order for it to become more relevant and valuable. Increased adoption also helps a token to positively influence the supply and demand dynamics. In a recent development, Litecoin has made an official announcement revealing a 'Litecoin Card' for the network. This card can be used to feasibly convert LTC tokens into fiat upon payments. As a result, the adoption of LTC tokens has also increased significantly. The LTC announcement read that, 'Litecoin is accepted anywhere VISA is.'
This card will help consumers conveniently use LTC to pay for their purchases. It would follow the same pattern as a VISA debit or credit card. As a result, more adoption of the altcoin would increase its fundamental value. Previously, AMC Theatre also announced that it will accept LTC as a mode of payment. These factors are forming a positive outlook of the popular altcoin.
The price of Litecoin fell by over $20 over the last day. It touched a low of around $220. At the time of writing, the coin is valued at around $236. Investors believe that the plunging price of the token will push it into the demand zone, and will help the coin to attract more investments.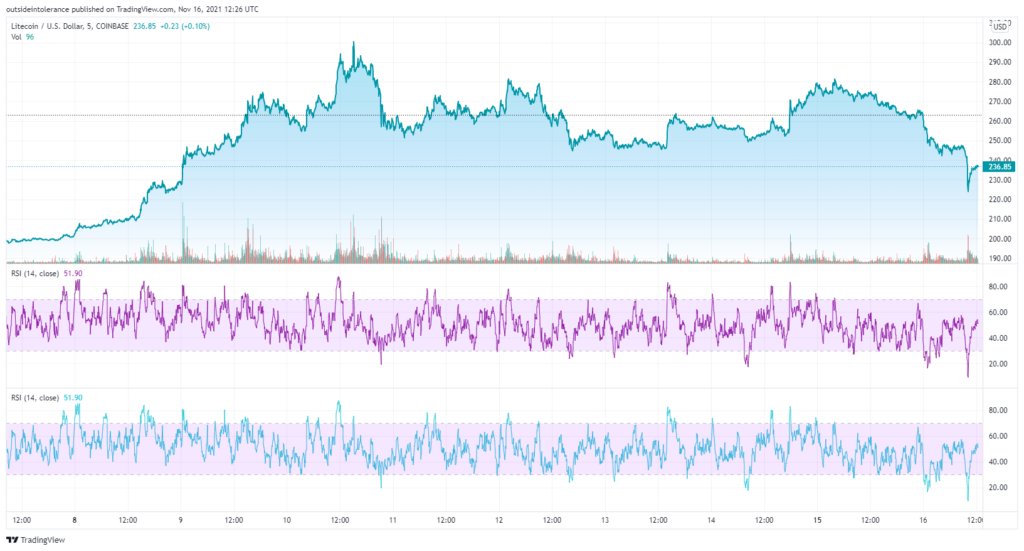 Investors also believe that the altcoin is currently available at a discounted price, and it is set to go high soon. LTC is gaining composure and stability, as the next few days will be crucial for the coin's performance. However, a breakdown of LTC below $210 could invalidate the bull thesis, and the coin could retest the low of $190.